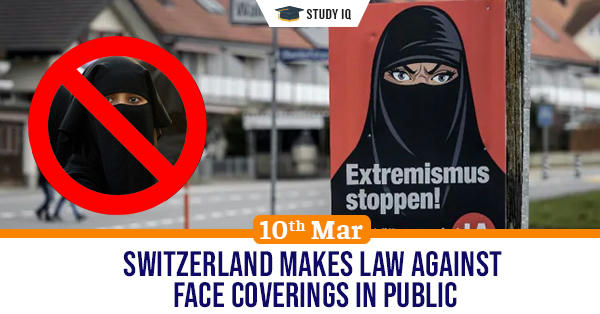 Switzerland makes law against face coverings in public
Date: 10 March 2021
Tags: Miscellaneous
Issue
Swiss citizens have backed a referendum that prevents full face coverings in public places. The referendum is binding and has to be implemented.
Background
This incident marks a major victory for right-wing Swiss People's Party (SVP) that had backed such a measure.
Details
Switzerland works on the system of direct democracy and people can directly vote on issues through referendums at both national and regional levels.

About 51.2% of population supported the ban while and 48.8% opposed the ban in the popular vote.

The vote also goes against the established belief of the government which was opposed to making such measures that will dictate people what should they wear.

Any topic can be put to vote for referendum if it gathers 1lakh public signatures. The population of the country is currently 86 lakhs.

For any referendum to succeed, it should get a majority from voters across the country along with majority in all 26 regions of the country.
Provisions
People will not be allowed to cover their face completely in public, including while shopping and dining in restaurants, using public transportation or walking on the streets.

There are exceptions such as places of worship or for health reasons, such as wearing a mask for protection against Covid-19.

Although Islam has not been directly mentioned in the vote, supporters have used image of Burqa-clad women as representational image to garner support.

Switzerland follows into the footsteps of other European countries such as France, Netherlands and Belgium that have already put such a mechanism in place.
Reactions
Islamic organisations of the country have criticised the move as 'Islamophobic' and have demanded for rollback.

While some sections have welcomed the move as removal of oppressive clothing of women others see it as a move to dictate women what to wear in public.

Some sections have said that the move is an emphasis on free nature of Swiss society and victory against political Islam.