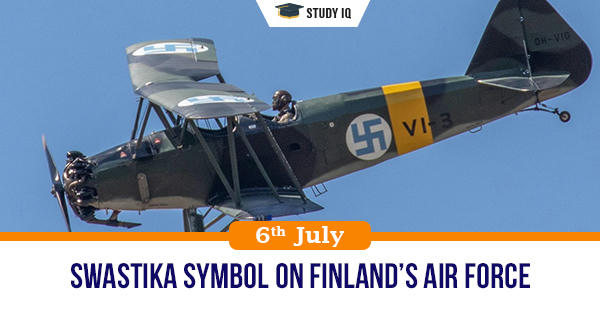 Swastika symbol on Finland's Air Force
Date: 06 July 2020
Tags: Miscellaneous
Issue
Finland's Air Force Command has suddenly stopped using an old emblem that featured a swastika with a pair of wings, replacing it with a new emblem featuring a golden eagle.
Background
It has been considered impractical and unnecessary to continue using the old unit emblem, which has caused misunderstandings from time to time.
Details
While the use of the swastika was stopped on planes of the Finnish Air Force after the Second World War, unit emblems, unit flags, and uniforms had continued to feature the symbol. The revised emblem had been in use since at least 2017.

The symbol arrived in Finland in 1918 long before the symbol became associated with the Nazis. The plane featured a symbol of a blue swastika on a white background that was considered a good luck charm and at that time was in no way associated with anti-Semitism or the crimes of the Nazis.

Finland's Air Force Academy still uses the swastika in its symbol. Several old aircraft in the Finnish Air Force Museum still depict this symbol.

The flag of Finland's president also features the Cross of Freedom in the top left corner in yellow, and upon closer inspection shows that it is actually a swastika, indicating its widespread use in design in Finland.

Although it has been a subject of discussion for the past few years, the decision to replace the symbol after more than a century shouldn't come as a surprise.

Perhaps the government is considering how the continued use of the symbol may impact Finland's youth and how they view the use of the symbol by the military.

Finland's next-door neighbor Russia may negatively interpret the use of the symbol. However, it was not immediately clear whether Russia had ever objected to or criticised the use of the swastika in various aspects of design in Finland.