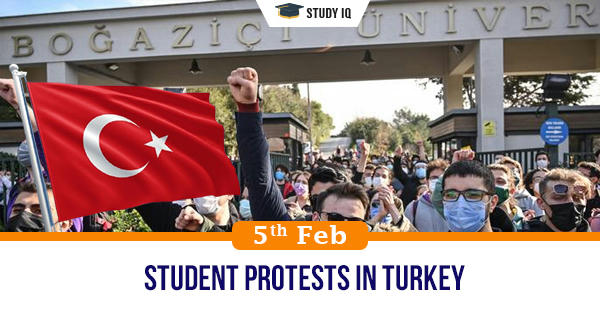 Student protests in Turkey
Date: 05 February 2021
Tags: Miscellaneous
Issue
Students and teachers at Turkey's Bogazici University have been protesting against the appointment of a former political candidate and academic as the Istanbul-based University's rector.
Background
The rector was appointed directly by Turkish President Recep Tayyip Erdogan, which demonstrators see as an undemocratic move.
Details
Four students were arrested over a photograph that mixed LGBT symbols with Islamic images. More than 150 protesters were detained after they did not agree to end the protests.

Turkey's handling of the protests has faced criticism from the US, UN, and the European Union. They have condemned homophobic & transphobic comments by officials.
Government response
Following weeks of protests in the university, Erdogan made remarks against the LGBT movement in the country.

Supporters of the government are defending appointment by saying that the move has been taken to fight elitism in higher education.

On the other hand, the supporters of the protests see the move as restricting academic freedom at an institution that has been known to defend the rights of all its students.
Crackdowns in Turkey
In early 2020, Turkish prosecutors ordered the arrest of nearly 700 people including military personnel and people working in the justice ministry as part of a move against those who were involved in a 2016 coup attempt to overthrow the government.

Since the unsuccessful coup took place, the Turkish authorities have been carrying out a crackdown on the alleged followers of US-based Muslim cleric Fethullah Gülen.

Significantly, in late 2020, the Turkish parliament passed a bill that would increase the monitoring of civil society groups.