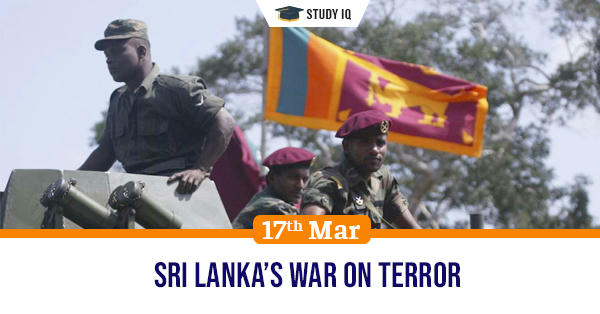 Sri Lanka's war on terror
Date: 17 March 2021
Tags: Miscellaneous
Issue
The Sri Lankan government has banned burqa in the country. It has also planned to close large number of madrassas.
Background
The measures are part of the plan of the new government to tackle Islamic radicalisation that resulted in fatal Easter bombings in the country.
Details
If the law gets through, Sri Lanka will join a handful of non-Muslim countries, mostly in Europe, where the garment is banned.

During Covid, the government had banned burials in the country that was criticised by the Muslim community as against their religious freedom.

Even though the government cited pandemic as the reason for the measure, the move was widely criticised on international forum.

The government had to rollback its decision after UNHRC resolution on Tamil genocide was taken up again.

The report on Easter bombings has not been made public but instead a committee of Ministers have been formed to study it and give suggestions.

The government has also formed a new regulations under the Prevention of Terrorism Act to detain individuals up to two years for the purpose of "deradicalisation".

Any individual suspected of supporting extremist ideas, or for spreading religious, communal or ethnic hatred can be charged under the new law.
Implications
The ban is set to send a signal to Muslim community that they are being punished for the crimes committed by a few members.

Currently, there is no uniform practice among women of Muslim community regarding wearing of burqa. However, the law will send a wrong signal.