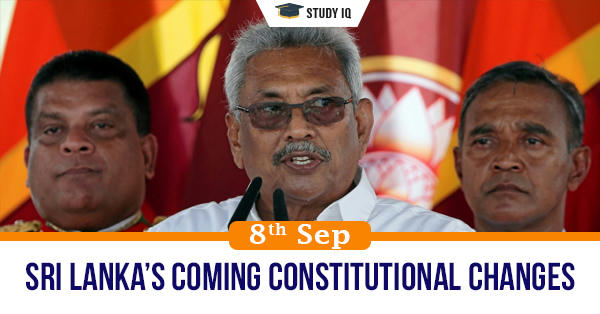 Sri Lanka's coming constitutional changes
Date: 08 September 2020
Tags: Miscellaneous
Issue
The Rajapaksas are aiming to make changes to the constitution after sweeping both Parliamentary and Presidential elections. There are concerns that the 19th and 13th Amendment may be replaced.
Background
The 19th Amendment was brought in by the previous government of President Maithripala Sirisena and Prime Minister Ranil Wickremesinghe. It rolled back the 18th amendment that had been brought in by the preceding President Mahinda Rajapaksa.
Details
The 18th amendment had removed the two-term bar on running for office, and centralised more powers in the hands of the President.

Repealing it was an election promise made by Sirisena, who stood against Rajapaksa in the 2015 presidential election as a rebel candidate of Sri Lanka Freedom Party.

One of their first acts was to bring in the 19th amendment, which restored the two-term bar on running for the presidency, laid down the minimum age of 35 years for a presidential candidate, and also barred dual citizens from the office.

Each of these was aimed at a Rajapaksa – the first at Mahinda, who had already served two terms, the second at his son Namal, and the third at Gotabaya, who had to give up his US citizenship to contest the presidential election last year.

It reduced the term of the presidency to five years from the six years laid down in the 1978 constitution.

The President also lost his power to sack the Prime Minister. It also placed a ceiling on the number of ministers and deputy ministers.

The 19th amendment also decentralised the appointments to the nine commissions including the Elections Commission, the National Police Commission, the Human Rights Commission, the Finance Commission, the Public Service Commission, among others to a Constitutional Council.

The 20th amendment Bill reverses almost everything in the 19th Amendment. It only retains from it the two-term bar on the presidency, and the five-year term.

The appointment and particularly the dismissal of the Prime Minister are no longer dependent on the confidence of Parliament but at the discretion of the President.

Armed with a two-third majority in Parliament, the Rajapaksas may not be content only with bringing in the 20th Amendment. The fear, especially among the Tamil minorities is that the 13th Amendment will go too.

The 13th Amendment was a consequence of the Indian intervention in Sri Lanka between 1987-1990. It flowed from the India-Sri Lanka Accord of July 29, 1987.

The agreement was aimed at finding a way forward on devolution of political powers to the then North-Eastern province, comprising the Tamil dominated areas of the island country.