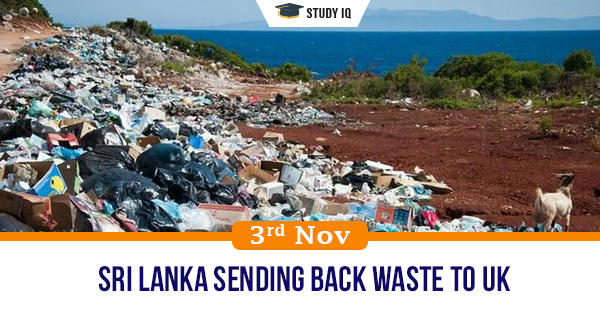 Sri Lanka sending back waste to UK
Date: 03 November 2020
Tags: Miscellaneous
Issue
Sri Lanka has started shipping about 240 containers of hazardous waste, which includes body parts from mortuaries, back to Britain, following a two-year court battle.
Background
The containers were shipped in 2017, and contained clinical waste, used cushions and mattresses, plant parts, plastic waste and other hazardous and uncategorised waste.
Details
The waste was imported without adhering to the terms of the BASEL Convention, as per which Sri Lanka has restricted the import of hazardous waste.

Some wealthy western nations ship their waste to developing countries since it is cheaper, helps to meet their recycling targets and also reduces domestic landfill.

But oftentimes, contaminated plastic and rubbish gets mixed with material meant for recycling, which eventually ends up in illegal processing centres.

Previously, Cambodia has sent back containers of waste back to the US and Canada. The Philippines, Indonesia and Malaysia have also reported similar incidents.

The responsible individuals could face a custodial sentence of up to two years, an unlimited fine and the recovery of money and assets gained through the course of the illegal activity.
Basel Convention on trans-boundary movement of hazardous waste
It is an international treaty that was designed to reduce the movements of hazardous waste between nations, and specifically to prevent transfer of hazardous waste from developed to less developed countries (LDCs). It does not, however, address the movement of radioactive waste.
Stockholm convention
Stockholm Convention on Persistent Organic Pollutants is an international environmental treaty that aims to eliminate or restrict the production and use of persistent organic pollutants (POPs).
Rotterdam convention
The Rotterdam Convention on the Prior Informed Consent Procedure for Certain Hazardous Chemicals and Pesticides in International Trade is a multilateral treaty to promote shared responsibilities in relation to importation of hazardous chemicals.

The convention promotes open exchange of information and calls on exporters of hazardous chemicals to use proper labelling, include directions on safe handling, and inform purchasers of any known restrictions or bans.

Signatory nations can decide whether to allow or ban the importation of chemicals listed in the treaty, and exporting countries are obliged to make sure that producers within their jurisdiction comply.