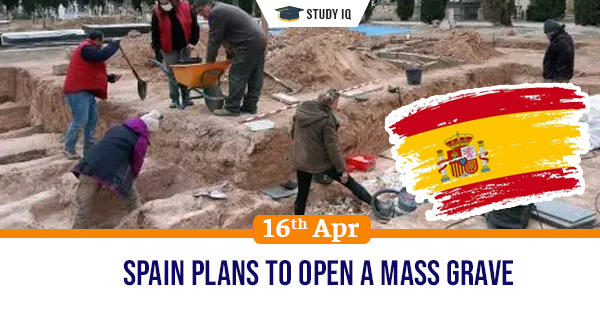 Spain plans to open a mass grave
Date: 16 April 2021
Tags: Miscellaneous
Issue
The Spanish government has started the process of excavating a mass grave at the 'Valley of the Fallen', which was constructed during Spanish civil war.
Background
The grave was built by Spanish dictator Francisco Franco and is located on the outskirts of Madrid. It is an important site for the citizens.
Details
The decision to exhume was taken after the government received requests from members of the victim of the civil war.
Valley of the Fallen
The Valle de los Caídos, or Valley of the Fallen was constructed by former dictator Francisco Franco for victims of civil war as a grave and memorial church.

Members of the right see it as a shrine of nationalism while other citizens think it represents Franco's tyrannical rule and abuse of power.

The valley was built by political prisoners over a period of 18 years. Victims of civil war all over the country were brought to the place for burial.

Many commoners think that it is a symbol of a brutal authoritarian regime. There is also condemnation of use of political prisoners.
Reasons for exhumation
Exhuming the bodies of the victims of the civil war was made a promise by the Spain's left leaning government.

The aim of the project is to convert the valley into a normal civil cemetery for the victims killed on both sides during the civil war.

The exhumation of remains is a part of Spanish government's attempt to undo some of the wrong committed during the period of authoritarianism.