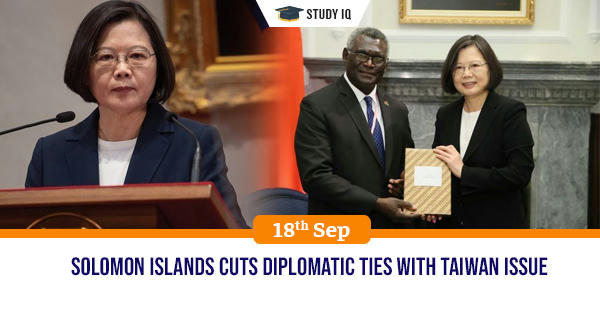 Solomon Islands cuts diplomatic ties with Taiwan
Date: 18 September 2019
Tags: Miscellaneous
Taiwan's global acceptance has received a setback after its largest ally in pacific ,the Solomon Islands has decided to cut ties with it and shift allegience to China.
Background
The government had conducted a poll to decide on its policy, where 27 lawmakers voted in favour of switching allegiance to China and six abstained. The Cabinet then voted unanimously in favour of the change.
Details
After this incident only 16 countries worldwide continue to recognise Taiwan, including five small Pacific nations which includes American llies, the Marshall Islands and Palau. Experts say Kiribati, Nauru and Tuvalu could soon switch.

It is said that China's big purse attitude has created a shift in mindset of the Solomonese government, which planned on favouring china in exchange of monetary support.
Taiwan
Taiwan, officially called the Republic of China (ROC), is a state in East Asia. Neighbouring states include the People's Republic of China (PRC) to the west, Japan to the north-east, and the Philippines to the south.

China considers Taiwan to be part of its territory and wants to bring the island back into its fold. Taiwan split from mainland China during a civil war in 1949 and set up a rival government.
Solomon Islands
Solomon Islands is a sovereign state consisting of six major islands and over 900 smaller islands in Oceania lying to the east of Papua New Guinea and northwest of Vanuatu.The country's capital is Honiara.