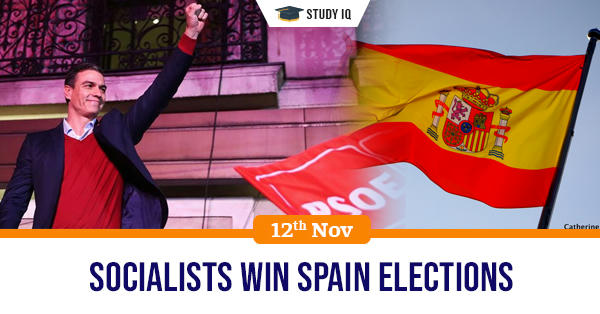 Socialists win Spain elections
Date: 12 November 2019
Tags: Miscellaneous
Issue
Spain's Socialist premier Pedro Sanchez emerged as winner but lost some seats in the repeat election held on 10th of November.
Background
The ballot, the fourth in as many years, failed to end months of parliamentary deadlock following an inconclusive April poll.
Details
The final results showed the Socialists taking 120 of the parliament's 350 seats (28% of the votes) while Vox secured 52 (15%) , more than double its mandates in the outgoing Assembly.

In second place was the right-wing Popular Party, which took 88 mandates (nearly 21%), up from 66 in the previous poll.

The results will make forming a government more difficult due to the parliament's deep fragmentation and the rise of Vox.
Spain
Spain is a country on Europe's Iberian Peninsula,which includes 17 autonomous regions with diverse geography and cultures. The Capital city is Madrid.
Neighbours: Portugal, France, Morocco (Ceuta and Melilla), Andorra, United Kingdom (Gibraltar).
Memberships: European Union, United Nations, NATO, OECD,WTO etc.
Currency: Euro
Mountains: Pyrenees mountains, Cantabrian mountains, Sistema central.
Other important features: Andalusian plains, canary islands, Bay of Biscay (between Spain and France).
Rivers: Tajo, Duero, Guadiana and Guadalquivir, Tagus (all Atlantic ocean), Ebro (Mediterranean sea).
Map location