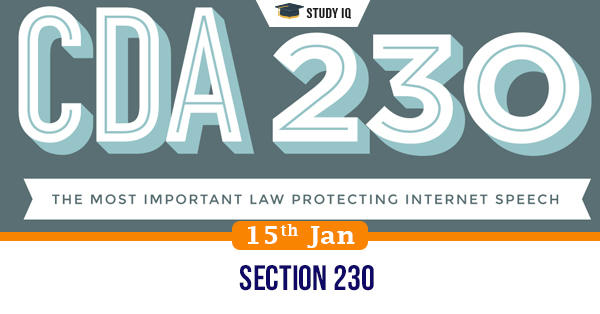 Section 230
Date: 15 January 2021
Tags: Miscellaneous
Issue
President Trump's social media accounts were suspended by Big Tech companies like Twitter and Facebook for his alleged role in inciting violence and spreading misinformation.
Background
The incident has a renewed debate about Section 230 of the US' Communications Decency Act, which was invoked to ban President.
Details
Over the years, reform of Section 230 has been a bipartisan issue with both the Democrats and the Republicans calling for it to be amended, if not repealed.

President Trump has been a vocal critic of the law, which shields tech companies from being held accountable for what users post online.

While the law is widely criticised, most agree that it is essential for ensuring a relatively free, safe, and open internet.
Section 230
Section 230 of the Communications Decency Act was passed in 1996 and provides legal immunity to internet companies for content that is shared on their websites.

The act was first introduced to regulate pornography online. Section 230 is an amendment to the act, which holds users responsible for their comments and posts online.

This means that online companies, including social media platforms, are not liable for the content shared on their website by its users. So if a user posts something illegal on the website, the company is protected from lawsuits.

The regulation also states that private companies have the right to remove content that violates their guidelines and values.

Thus, the big tech companies were well within their rights when they decided to suspend Trump's accounts.

The reason they were able to respond to the incident so swiftly and with such ferocity is largely because of Section 230, as it protects these companies from lawsuits in the future.
Criticism
Its critics are quick to point out that it was passed before social media existed in its present form. Political leaders and internet activists have long called for the law to be updated.

More conservative critics of the regulation argue that it effectively permits big tech to participate in politically partisan activity.

Republican lawmakers have alleged that platforms like Twitter and Facebook exhibit a clear bias against conservative voices and often abuse Section 230 of the Communications Decency Act to censor right-leaning users.

Trump has claimed that Section 230 facilitated the spread of foreign disinformation online.