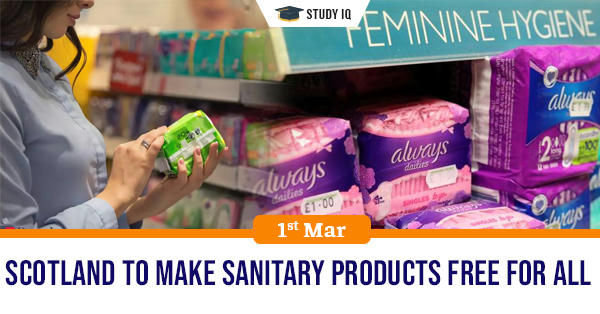 Scotland to make sanitary products free for all
Date: 01 March 2020
Tags: Miscellaneous
Issue
The Scottish Parliament passed the Period Products (Free Provision) (Scotland) Bill that aims to make sanitary products free for women of all age groups.
Background
Bill that aims to make sanitary products free for women of all age groups.
The Bill has only passed the first hurdle to become a law. It still needs to be considered by a parliamentary committee, following which it will require approval from the parliament. It will finally need the Royal Assent of the Queen.
Details
The Bill defines period products as the "means manufactured articles the purpose of which is to absorb or collect menstrual flow".

Critics of the legislation pointed out that the passing of the Bill would put the responsibility of the provision of these products entirely on the Scottish Government.

They also noted that the proposed costs were "underestimated" and that it was not clear whether the Bill is to help those who cannot afford period products or for everyone.

Period poverty mentions some circumstances that make menstruation a difficult experience for women. These include homelessness, coercive, controlling and violent relationships and health conditions such as endometriosis.

As of now, in Scotland, the provision of free sanitary products is already available in schools, universities and colleges.

Referring to period dignity, the legislation aims to develop a universal system in Scotland, which will provide free sanitary products for "anyone who needs them.

If the Bill is passed into law, one of its central objectives is to end the silence and stigma that surrounds menstruation and also aims to remove gendered barriers.

One of the primary aims of the Bill is to ensure that those who menstruate have reasonably convenient access to period products free of charge. Essentially, the Bill places a duty on Scottish ministers to ensure that period products are made available free of charge on a universal basis. It also requires education providers to make period products available free of charge in on-site toilets.