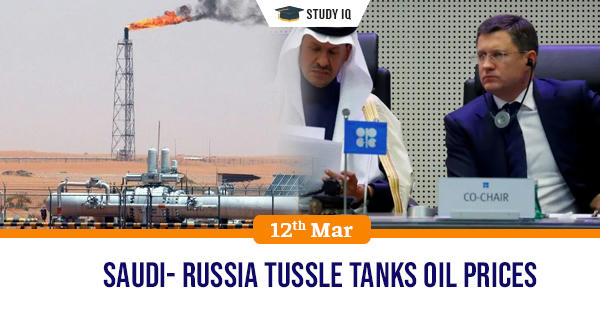 Saudi- Russia tussle tanks oil prices
Date: 12 March 2020
Tags: Miscellaneous
Issue
Saudi Arabia and the United Arab Emirates announced they would raise crude oil output by the equivalent of 3.6% of global supplies, adding 3.6 million barrels per day (bpd) to a market that is already massively oversupplied.
Background
This extraordinary flooding of the market will take place at a time when the coronavirus outbreak has severely impacted businesses and travel, and global demand is predicted to shrink for the first time in nearly 10 years.
Details
Brent crude was trading at around $36 on Wednesday, up from the week's low of about $31, but still some 45% lower since the beginning of 2020.

Saudi Arabia and the UAE have taken a united stand in their ongoing battle with Moscow, which last week rejected a demand by Riyadh that the OPEC+ should cut production sharply to arrest crashing prices. In retaliation, the Gulf allies have decided to scrap all limits on production.

The crippling of industrial production in China and other Asian countries such as South Korea has resulted in a sharp reduction in their import of crude oil.

But Moscow argued that production should not be cut until the full impact of the COVID-19 outbreak is assessed in greater detail, and that any attempt to shore up prices would only benefit the costlier US shale industry, which has raised production to levels higher than both Saudi Arabia's and Russia's.

The Saudi-Russian fight signals an end, at least temporarily, to the truce between these two large oil producers that had brought Moscow a seat at the OPEC high table, and held off a potential price war for more than three years now.

However, the OPEC+ deal to control production also helped the American frackers. Analysts have said that in walking out of its marriage of convenience with OPEC and the Saudis now, Moscow may be trying to drive prices below the break-even point of shale oil production.