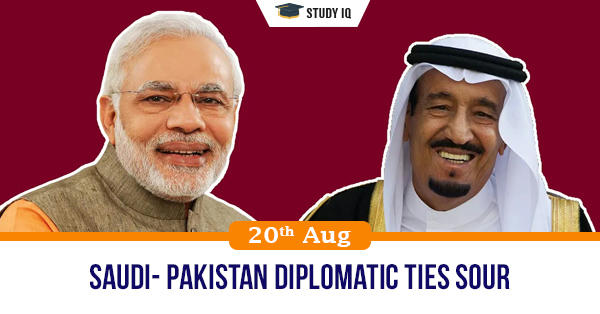 Saudi- Pakistan diplomatic ties sour
Date: 20 August 2020
Tags: Miscellaneous
Issue
Pakistan's Army chief General Qamar Javed Bajwa is on a visit to Saudi Arabia in a bid to straighten out diplomatic relations between the two countries.
Background
Bajwa was sent to Riyadh after the latter insisted on early repayment of a $3 billion loan. Earlier in August, Pakistan repaid a $1 billion loan to Saudi Arabia with China's help.
Details
In 2019, Saudi Arabia pledged investment deals worth over $20 billion with Pakistan, including a $10 billion investment in Gwadar, to boost its economy.

Before that, in November 2018, Saudi Arabia had announced a loan package worth over $6 billion as Pakistan was staring at a financial crisis with dwindling foreign reserves and a widening trade deficit.

The dispute between the countries arose in February when Saudi Arabia rejected Pakistan's request to convene a special meeting of the Council of Foreign Ministers of the Organisation of Islamic Cooperation (OIC), to gain Muslim countries' support on the Kashmir issue.

OIC members include Malaysia, Indonesia, Iraq, Iran, UAE, Bangladesh, Turkey, and Afghanistan, among others, and are largely led by Saudi Arabia and therefore its support is important.

While Saudi Arabia has supported Pakistan on the Kashmir issue in earlier decades, the kingdom along with other Gulf countries has largely stayed away from issuing statements against India on the abrogation of Article 370.

While the foreign ministers of UAE and Saudi Arabia went to Islamabad on a symbolic visit to show their support with Pakistan after the abrogation of Article 370, they did not strongly condemn India's decision. One reason for this could be the emerging trade ties between the Gulf countries and India, especially with Saudi Arabia.

The kingdom is India's fourth-largest trading partner and the value of bilateral trade between the two countries is estimated to be around $28 billion, with a majority of it being crude oil exports to India, which imports around 19% of its oil requirements from Saudi Arabia.

Apart from this, the countries also have defence, security, and counter-terror cooperation, and have seen steady progress in relations since 2006.