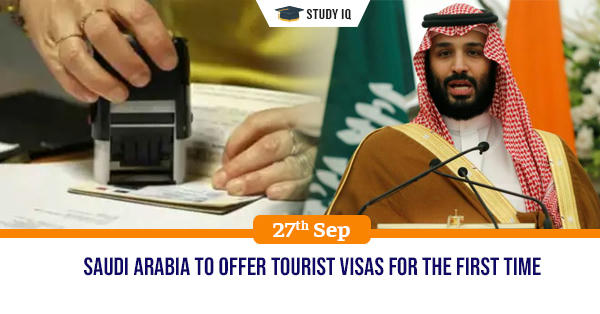 Saudi Arabia to offer tourist visas for the first time
Date: 27 September 2019
Tags: Miscellaneous
Issue
Saudi Arabia has said it will offer tourist visas for the first time, opening up the kingdom to holidaymakers as part of a push to diversify its economy away from oil.
Background
Kickstarting tourism is one of the centrepieces of Crown Prince Mohammed bin Salman's Vision 2030 reform programme to prepare the biggest Arab economy for a post-oil era.
Details
Saudi Arabia will open applications for online tourist visas to citizens of 49 countries.
Visas are currently restricted to expat workers, their dependents and Muslim pilgrims travelling to holy sites in Mecca and Medina.

The government hopes tourism will contribute up to 10% of the gross domestic product by 2030, compared to 3% currently.

Since oil prices have been reeling lately there is a need to look for alternative sources for economic growth.
Indian visa policy
India offers Freedom of Movement to countires like Nepal and Bhutan, whose citizens can enter India without Visa and can live and work freely.

India has expanded Visa on Arrival for more than 40 countries, who can obtain their stay certificate after their landing in India.

India also extends e-Visas for more than 100 countries globally, where visas can be obtained through online application.