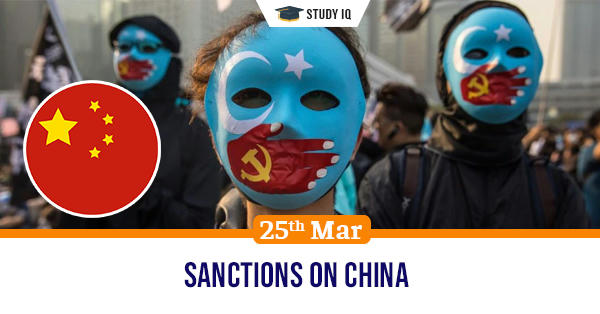 Sanctions on China
Date: 25 March 2021
Tags: Miscellaneous
Issue
The European Union, USA, UK and Canada have imposed sanctions on Chinese officials for performing human rights abuses against Uighurs and other Muslim minorities.
Background
Countries such as Australia and New Zealand have also issued a statement expressing concerns on state of treatment of Uighurs.
Details
China has also put its own sanctions. It has defended its move as a way of deradicalising Uighurs from fundamentalist ideology.

The sanctions include freezing assets of individuals involved in violation. Their properties present in western countries will be freezed and their travelling will be banned.

China has sanctioned Members of European Parliament and the Political and Security Committee. It has summoned EU envoy and registered a protest.
Significance
This is for the first time that EU has imposed sanctions on China since the embargo imposed during the Tiananmen massacre. The sanctions are not rigid but they indicate a changing stance undertaken by EU.

The move was taken together by Western powers, indicating their intention of working together while handling China.
Reason for sanctions
Xinjiang is home to large number of Uighurs, who are Muslims of Turkic descent. The government has been trying to settle more Han Chinese in these areas, causing clashes between them and the Uighurs.

China is accused of sending Uighurs to camps that are aimed at "de-Muslimizing" them and make them integrate better in communist society.

There have been allegations that Uighurs are forced to leave their occupations, properties and families, to stay at the camps.

People can be sent to these camps if they are fasting during Ramzan, dressing differently from the majority, sending Eid greetings, praying, growing beard etc.
Uighurs
The Uighurs, are a Turkic ethnic group that are original residents of Central and East Asia. The Uighurs are said to be native to the Xinjiang Uyghur Autonomous Region in Northwest China.