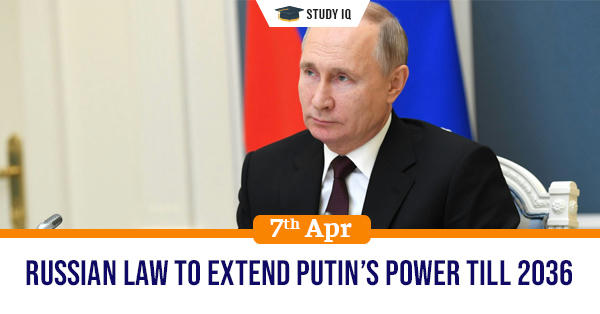 Russian law to extend Putin's power till 2036
Date: 07 April 2021
Tags: Miscellaneous
Issue
Russian President Vladimir Putin has signed a law that will allow him to occupy the position until 2036.
Background
Putin has been in power since 1999 either as the Prime Minister or the President. He was re-elected as President in 2018 for a six-year term till 2024.
Details
Putin has been the leader with highest time in power. He has been in power for more than 20 years, which is the longest for a leader since Joseph Stalin.

Before this legislation, a President could serve two six-year terms. The new change will allow Putin to serve another two six-year terms.
The changes
The legislation was signed after it was accepted through a referendum held last year where 78 percent of people had approved the change.

Putin had called for changes that included removing cap on Presidential terms. He said he favoured the previous rules after the country becomes politically strong.

Putin cited example of US President Franklin Roosevelt to justify his steps. Roosevelt had been the only US President to have served four terms in 1932, 1936, 1940 and 1944.

When this legislation comes into effect, all the previous terms of Putin will not be considered and it will enable him to serve two six-year terms.
Criticism
Critics have termed the legislation as power grab while others have called it constitutional coup. They say Putin will become President for life after the legislation will come into action.