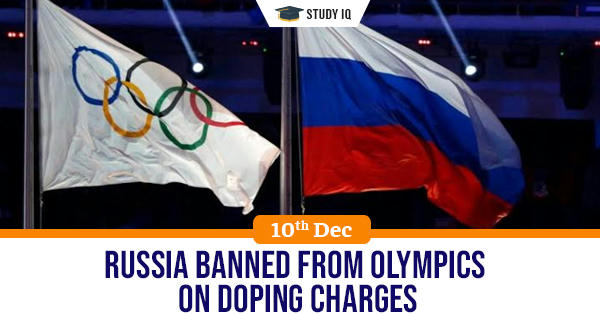 Russia banned from Olympics on doping charges
Date: 10 December 2019
Tags: Miscellaneous
Issue
Russia has been banned from the Olympics and world championships in a range of sport for four years after the World Anti-Doping Agency (WADA) ruled to punish it for manipulating laboratory data.
Background
The punishment however allows clean Russian athletes to compete at major international sporting events without their flag or anthem for four years.
Details
The decison was taken after it was found that Moscow had tampered with laboratory data by planting fake evidence and deleting files linked to positive doping tests that could have helped identify drug cheats.

Russia has tried to showcase itself as a global sport power but has been embroiled in doping scandals since a 2015 report commissioned by WADA found evidence of mass doping in Russian athletics.

The biggest beneficiaries of Russia's exclusion are likely to be the United States, China and Japan, who should claim 10 of the banned nation's projected gold medals between them in the upcoming Olympics in Tokyo.
World Anti-Doping Agency (WADA)
The World Anti-Doping Agency is a foundation initiated by the International Olympic Committee based in Canada to promote, coordinate and monitor the fight against drugs in sports. Its Headquarters is located in Montreal, Canada.

The agency's key activities include scientific research, education, development of anti-doping capacities, and monitoring of the World Anti-Doping Code, whose provisions are enforced by the UNESCO International Convention against Doping in Sport.
National Anti-Doping Agency (NADA)
The National Anti-Doping Agency (NADA) is the national organisation responsible for promoting, coordinating, and monitoring the doping control program in sports in all its forms in India.

NADA deals with adopting and implementing anti-doping rules and policies which conform with the World Anti-Doping Agency, cooperates with other anti-doping organisations and promotes anti-doping research and education.

NADA is formed by the Union Government under the societies Registration Act. NADA includes scientists and representatives from the Indian Olympic Association (IOA).