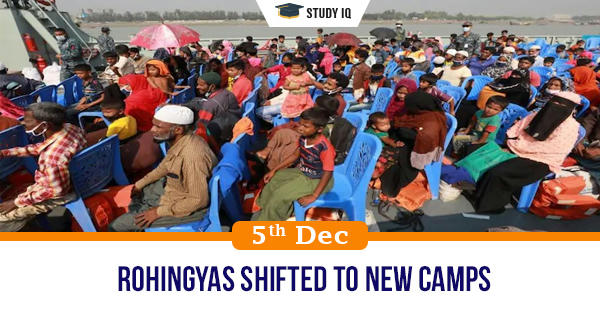 Rohingyas shifted to new camps
Date: 05 December 2020
Tags: Miscellaneous
Issue
The Bangladesh government has made a list of Rohingya refugees to be shifted to a remote island in Bay of Bengal, far from the crowded camps.
Background
Before the 1980's, the low lying island did not exist. It is still very young and vulnerable to high tides from the sea.
Details
Though the government claims that any relocation will be voluntary, Human Rights group has said many names were on the list and that they had not willingly volunteered to relocate.

The government has provided limited information to refugees about the actual conditions on the island, and there are some allegations that the authorities may have offered misleading information and incentives to move there.

Those on the island say they are denied freedom of movement and have no access to sustainable livelihoods or education.

The closest option for a hospital is a minimum three-hour journey by boat, which would be potentially impossible during monsoon season.
Rohingyas
The Rohingya people are a stateless Indo-Aryan ethnic group who predominantly follow Islam and reside in Rakhine State, Myanmar.

There were an estimated 1 million Rohingya living in Myanmar before the Rohingya genocide in 2017.

Described by the United Nations in 2013 as one of the most persecuted minorities in the world, the Rohingya population is denied citizenship under the 1982 Myanmar nationality law. They are also restricted from freedom of movement, state education and civil service jobs.

The position of the Myanmar government is that Rohingyas are not a national "indigenous race", but are illegal immigrants from neighbouring Bangladesh.

It argues that the Muslims of pre-colonial times are now recognised as Kameins and that the Rohingya conflate their history with the history of all Muslims in Arakan to advance a separatist agenda.
Bhashan Char
Bhashan Char is an uninhabited island located in the Bay of Bengal, 37 miles from the Bangladesh coast. The island (40 sqkm) was formed by Himalayan silt in 2006.
The island is located in the Meghana river delta in the Bay of Bengal. The island came into existence post the Bhola cyclone in 1980's.