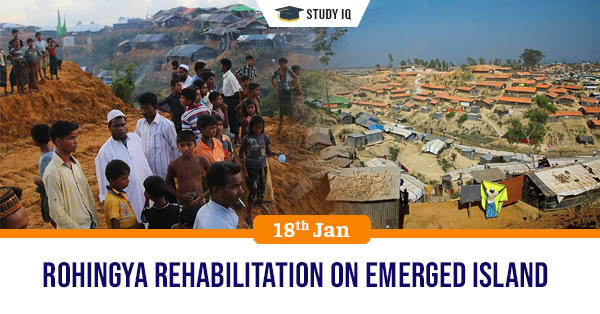 Rohingya rehabilitation on emerged island
Date: 18 January 2020
Tags: Miscellaneous
Issue
A Bangladeshi island regularly submerged by monsoon rains is ready to house 1lakh Rohingya refugees, but no date has been announced to relocate people.
Background
Flood protection embankments, houses, hospitals and mosques have been built on Bhasan Char, or floating island, in the Bay of Bengal.
Details
The island is built to accommodate 1 lakh people, just a fraction of the million Rohingya Muslims who have fled waves of violent persecution in their native Myanmar.

About 7 lakh people came after August 2017, when the military in Buddhist-majority Myanmar began a harsh crackdown against Rohingya in response to an attack by insurgents.

The Bangladesh navy has been implementing a multimillion-dollar plan to bolster the swampy island, which is submerged for months during annual monsoon season.

International aid agencies and the United Nations have opposed the relocation plan since it was first proposed in 2015, expressing fear that a big storm could overwhelm the island and endanger thousands of lives.

Prime Minister Sheikh Hasina has repeatedly told the U.N. and other international partners that her administration will consult them before making a final decision on the relocation, and that no refugees will be forced to move.

The current refugee camps near the beach town of Cox's Bazar are overcrowded and unhygienic. Disease and organized crime are rampant. Education is limited and refugees aren't allowed to work.
Rohingyas
The Rohingya people are a stateless Indo-Aryan ethnic group who predominantly follow Islam with a minority following Hinduism and reside in Rakhine State, Myanmar.