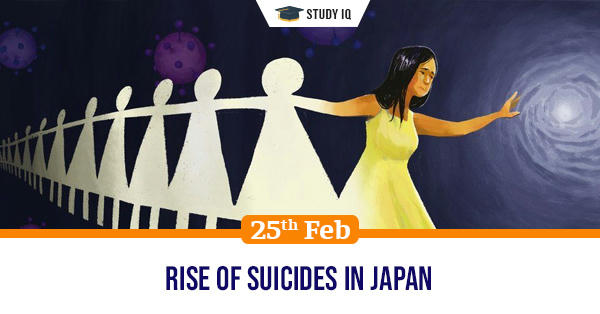 Rise of suicides in Japan
Date: 25 February 2021
Tags: Miscellaneous
Issue
Japan has appointed a Minister of Loneliness after the country's suicide rate went up for the first time in 11 years.
Background
Japan's suicide rate rose in 2020, with 20,919 people taking their lives according to data by the National Police Agency.
Details
Most experts believe that the problem of escalating suicides in Japan is tied to the country's culture of loneliness.

Japan's ageing population is the highest proportion for that category in the world and has created a huge section of middle-aged and older people who feel they have no one to turn to for help and company.

Since most ageing people do not socialise much, many of them die alone. Their bodies are discovered a long time after their death. The phenomenon is known as 'kodokushi', which means 'lonely death'.

The country also has some of the longest working hours in the world, which leaves people with little opportunity to spend time with their friends or be engaged in hobbies they are interested in.

While Japanese labour laws dictate that employed persons should work for a maximum of 8 hours a day, or 40 hours a week, this is hardly the case in reality.

It was found during a government survey conducted in 2016 that over 25% of Japanese companies demand overtime of 80 hours every month, with the extra hours often being not paid for.

Long hours at work without any time for recreation have created a largely unhappy population which often finds itself unable to cope with the pressure to the point of no return.
Culture of loneliness
The culture of self-isolation has reached so extremes in the country that there are about one million people who live in absolute self-imposed confinement for many years with no contact with the outside world.

Japan has also been witnessing a rising trend of glorifying the culture of loneliness, with books that portrayed isolation as independence and a condition of superiority turning out to be bestsellers.

In a culture that continuously seeks to glorify loneliness, it often becomes extremely difficult for people to reach out or seek help when in mental distress.
Impact of pandemic
The job losses due to the pandemic and the continuous exhortations to stay back at home worsened the crisis.

The growing job losses and the increasing instances of domestic violence during the pandemic compelled many women to take their lives.
Tackling the crisis
The appointment of minister shows that Japan understands the gravity of the situation and is trying to make policy-level interventions to tackle the crisis.

The Japanese government has created an isolation/loneliness countermeasures office within the cabinet to look into issues such as suicide and child poverty.