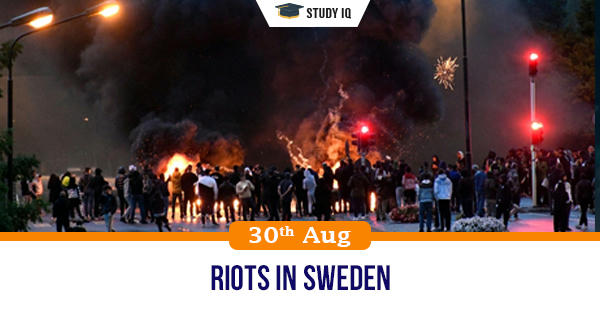 Riots in Sweden
Date: 30 August 2020
Tags: Miscellaneous
Issue
Violence erupted in the Swedish city of Malmo where over 300 people had gathered to protest against anti-Islam activities.
Background
Protests began after a copy of the Quran was burned in Malmo by members of the far-right Danish party Stram Kurs (Hard Line).
Details
Paludan is a Danish politician and lawyer who has founded the far-right party Stram Kurs in 2017 and was noticed for making anti-Muslim videos on YouTube, the contents of which included burning the Quran, at times wrapped in bacon, which he justified as a tribute to free speech.

Paludan was denied permission to hold a meeting in Malmo about "Islamization in the Nordic countries", where it was rumoured that the Quran would be burned.

Paludan is fighting elections with a policy based on deporting more than 300,000 Muslims from Denmark and banning Islam.

Sweden has historically been a safe haven for refugees and, after Canada and Australia, has taken the most refugees per capita.

Sweden received a record 162,000 applications for asylum primarily from Syria, Iraq and Afghanistan and this influx of Muslim asylum seekers from war-torn countries has had a significant impact on Swedish politics.

The Swedish parliament's third-largest party, the right-wing Sweden Democrats that has created the perception among people in recent years that the influx of predominantly Muslim immigrants has led to a surge in crime and since 2015-2016 migrant crisis.

Many Swedes view refugees as putting pressure on public finances in a country that has one of the most generous welfare programs in the world.

The large influx of immigrants into Sweden threatens the endurance of the country's model that depends on its residents paying some of the highest taxes in the world and understanding that everyone is supposed to work.

But a large number of immigrants, many of whom are not as skilled and educated, means that they will depend on welfare for years, something that Swedes are becoming increasingly wary of.

In 2017, the Swedish police launched an investigation after riots erupted in a predominantly migrant area of Stockholm.

In 2010, rioters burned down a school in the Swedish capital and threw stones at the police in a predominantly immigrant suburb after a group of youths were refused entry to a school dance.