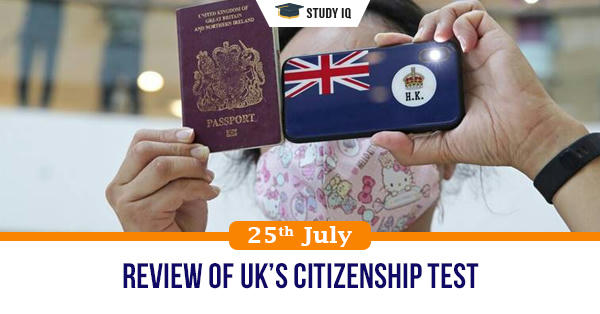 Review of UK's citizenship test
Date: 25 July 2020
Tags: Miscellaneous
Issue
Historians have called on the UK's Home Office to revise the UK citizenship test because the history section of this test contains a "misleading and false" representation of history during Britain's colonisation.
Background
Called the 'Life in the UK Test', it is a requirement for applicants who wish to acquire UK citizenship.
Details
Signatories have called for a review of this test on the grounds that the official handbook published by the Home Office is fundamentally misleading and in places demonstrably false. The test appears to glorify Britain's colonial past.

This retelling of Britain's history in an official handbook that is being used to prepare for the test is an attempt to sanitise the nation's violent and brutal past that may be particularly difficult for citizenship applicants from countries that were former British colonies.

The letter states that the handbook makes no mention of the over three million people who were transported as slaves and that people died during these journeys.

Independence movements and uprisings in the former colonies also find no mention in this handbook. The handbook promotes the misleading view that the Empire came to an end simply because the British decided it was the right thing to do.

Similarly, the abolition of slavery is treated as a British achievement, in which enslaved people themselves played no part.

The historians state that people of colour and people in colonies also have not been adequately represented in this retelling of history and their contributions to the development and growth of Britain has been entirely omitted.

The official handbook creates a distorted view of the British past. It puts people in the invidious position of being obliged to read, remember, and repeat a version of the past which is false.

This comes at a time when the Black Lives Matter movement has led to widespread protests across the UK and Europe.

Statues of colonisers and symbols of colonisation have been defaced and toppled in protests against racism and historic injustices perpetrated against people of colour and immigrants.