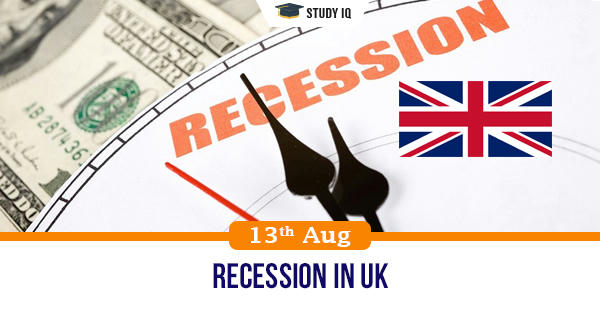 Recession in UK
Date: 13 August 2020
Tags: Miscellaneous
Issue
The British economy has recorded the deepest coronavirus-related slump among the world's leading industrial economies.
Background
Following a 2.2% contraction in the first three months of the year, the UK economy is now in recession, commonly defined as two quarters of contraction.
Details
The 20.4% quarter-on-quarter drop in the April to June period is worse than anything since records began in 1955.

Britain's recession is deeper than those recorded by comparable economies in Europe, notably Germany, France and Italy, or that of the United States.

The other Group of Seven economies, Japan and Canada, have yet to post second-quarter numbers but no economist thinks they will be as bad as the UK's.

The British government hopes additional measures such as the reopening of pubs and restaurants and a return to offices will further fuel the recovery.

The British government has kept a lid on the official unemployment numbers, through a salary support package that has given hard-pressed firms the opportunity to retain workers rather than fire them.

Under the Coronavirus Job Retention Scheme, the government has been paying a large chunk of the salaries of workers retained.

The British economy faces further headwinds aside from the pandemic, notably its future trading relationship with the European Union following the UK's departure from the bloc in January.

The UK is currently in a transition period whereby it remains part of the EU's tariff-free arrangements until the end of the year.

The future economic relationship has yet to be agreed, meaning tariffs could be imposed on traded goods between the two sides come the start of next year.