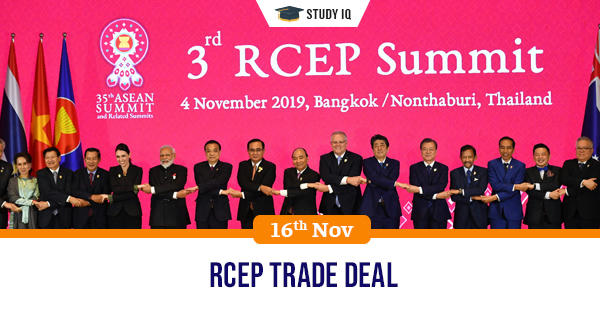 RCEP trade deal
Date: 16 November 2020
Tags: Miscellaneous
Issue
After eight long years of negotiation and discussion, the RCEP trade will be signed between its members.
Background
Launched in 2012, RCEP is a trade pact between the 10-member ASEAN bloc, along with China, Japan, South Korea, Australia, and New Zealand. India had been due to sign but pulled out last year.
Details
Its aim is to lower tariffs, open up trade in services, and promote investment to help emerging economies catch up with the rest of the world.

The deal includes 2.1 billion people, with RCEP's members accounting for around 30 percent of global GDP.

RCEP is expected to help reduce costs and time for companies by allowing them to export a product anywhere within the bloc without meeting separate requirements for each country.

It also touches on intellectual property, but will not cover environmental protections and labour rights.
Significance of RCEP
It mainly matters because it sets new trade rules for the region and has China's backing but does not include the United States.

China's broader geopolitical ambitions in the region, where it has faced little competition from the US since it pulled out from Trans-Pacific Partnership (TPP).
Reason for India's departure
India withdrew last year over concerns about cheap Chinese goods entering the country, though it can join at a later date if it chooses.

It raised alarm about market access issues, fearing its domestic producers could be hard hit if the country was flooded with cheap Chinese goods. Textiles, dairy, and agriculture were flagged as three vulnerable industries.