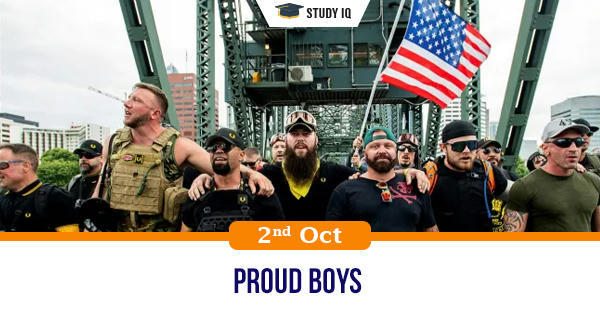 Proud Boys
Date: 02 October 2020
Tags: Miscellaneous
Issue
A US-based far-right group called the Proud Boys was brought to the world's attention after President Donald Trump urged the group to "stand back and stand by" during his first presidential debate.
Background
Trump's refusal to explicitly denounce the violence caused by white supremacist and militia groups during debate sparked widespread outrage across the US.
Details
The all-male neo-fascist group was founded in 2016 by Vice Media co-founder and Canadian-British right-wing activist Gavin McInnes.

The Proud Boys are known for their "anti-Muslim and misogynistic rhetoric" and have been classified as an 'extremist group' by the FBI.

To be inducted into the fold, a Proud Boy must first proclaim that he is a "a Western chauvinist who refuses to apologise for creating the modern world".

According to the Anti-Defamation League (ADL), the group is also known for anti-transgender, anti-immigration and anti-Semitic views.

They claim that they do not support white supremacists, and merely banded together to oppose the activities of the anti-fascist movement known as Antifa.

But members of the group are often seen at rallies carrying guns and bats and a few have even been convicted of violent crimes against left-wing groups and activists.

The group is known to show up bearing arms at right-wing and liberal leaning protests across the United States.

The Proud Boys have become a regular feature at protest marches across the country. They have been known to intimidate anti-racism protesters and in some places have incited violence and fighting.

Even before the recent spate of protests across the United States, the group has been known to show up wherever they may be able to confront far-left activists.