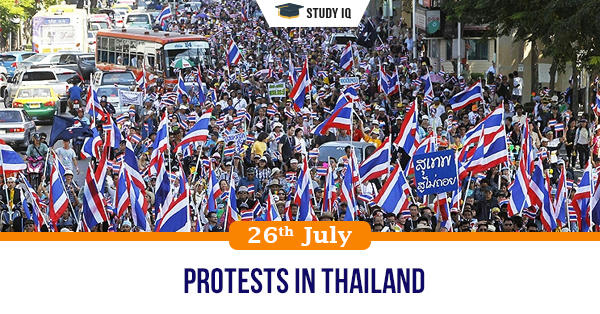 Protests in Thailand
Date: 26 July 2020
Tags: Miscellaneous
Issue
Thousands of students are protesting in Thailand and have demanded the resignation of Thai Army-backed Prime Minister Prayuth Chan-ocha.
Background
Anti-government rap songs and chants of "Get Out" have echoed outside Thai schools and universities, as protestors called for the dissolution of the parliament and the rewriting of the constitution.
Details
The demonstrations first began at Bangkok's historic Democracy Monument. In the days that followed, smaller protests broke out in cities and towns across the country.

Thai Army Chief General has alleged that the spate of youth-led protests were most likely part of a larger political conspiracy.

With the government yet to address the protestors' grievances, Thailand's recent 'youthquake' shows no signs of weakening.

The Free Youth protestors first outlined their three big demands— first, they called for the resignation of Chan-ocha and the dissolution of the parliament; second, they demanded the rewriting of the constitution; and third, they urged authorities to stop intimidating activists for exercising their freedom of expression.

Another factor that has fuelled the recent youth-led anti-government movement is the economic impact of the ongoing Covid-19 pandemic, which has also brought the country's otherwise thriving tourism industry to a complete standstill.

Students, particularly graduates, find themselves especially vulnerable as they have few to no jobs to choose from. Many denounced the country's leadership for failing to reverse the economic damage caused by the pandemic.

Many young people protesting claim they are frustrated by the lack of pro-people reforms and years of economic stagnation.

The countries' stringent lèse majesté laws, which make defaming or insulting the king an illegal offence, have also shrunk the space for dissent considerably.

The pro-democracy rallies seen this week did not emerge out of thin air, the protestors merely picked up where they left off earlier this year before public assemblies were abruptly halted due to the pandemic.