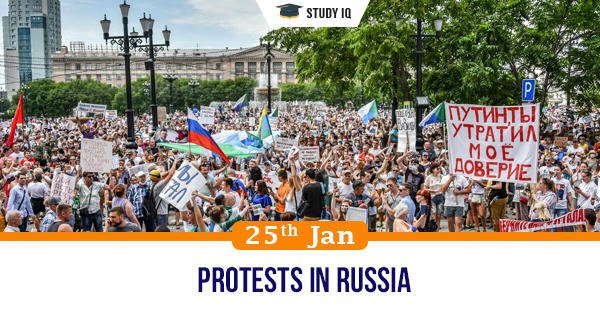 Protests in Russia
Date: 25 January 2021
Tags: Miscellaneous
Issue
Russian Opposition leader Alexei Navalny called for nationwide protests after he was arrested when he returned to Moscow from Germany for the first time since his poisoning.
Background
Navalny was further remanded in pre-trial detention for 30 days despite demands by the United States and some European countries to release him.
Details
Thousands of people have taken to the streets demanding the Navalny's release. TikTok has a number of videos posted by Russians supporting the planned protests and urging others to come out.

With economic problems growing, the administration will worry that Mr Navalny could act as a lightning rod for protest sentiment.
Rise of Navalny
Navalny came to prominence in 2008 after he started exposing corruption in Russian politics through a blog. In 2018, he was barred from standing against Putin in the presidential elections. He has also been arrested on multiple occasions.

Since he started political campaigning, Navalny has spearheaded many anti-corruption rallies and is considered to be the face of the opposition in Russia.

The August incident was not the first time Navalny was poisoned. He was previously hospitalised in 2020 after he suffered an allergic reaction in jail, possibly from an unknown chemical substance.

Navalny had also tricked a Russian intelligence operative into confessing to the botched attempt to kill him in August 2020.