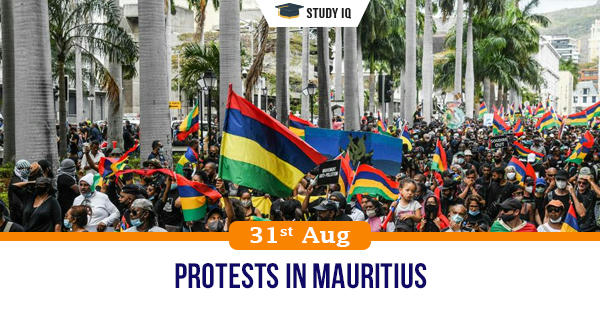 Protests in Mauritius
Date: 31 August 2020
Tags: Miscellaneous
Issue
Thousands of people have been protesting in Mauritius over the government's handling of the oil spill that ravaged the South-East coast of the country.
Background
The oil spill has been a major blow to the country that relies heavily on tourism and has left a 15 km stretch of the coastline that is recognised as a biodiversity hotspot stained with oil.
Details
A Japanese ship named M V Wakashio, which is owned by Nagashiki Shipping and operated by Mitsui OSK Lines Ltd, struck a coral reef resulting in an oil spill of over 1,000 tonnes into the Indian Ocean in late July.

The government is not geared up to deal with a catastrophe this size and therefore experts arrived from other countries such as France, Japan, and the UK and a team was sent by the UN to manage the oil spill.

Rather than the size of the oil spill, it was the area where it happened which was a cause for concern. The accident had taken place near two environmentally protected marine ecosystems and the Blue Bay Marine Park Reserve, which is a wetland of international importance.

Oil spills affect marine life by exposing them to harsh elements and destroying their sources of food and habitat. Further, both birds and mammals can die from hypothermia as a result of oil spills.

Oil destroys the insulating ability of fur-bearing mammals, such as sea otters. It also decreases the water repellency of birds' feathers, without which they lose their ability to repel cold water.
Previous oil spills
Some of the world's largest oil spills include the Persian Gulf War oil spill of 1991, when more than 380 million gallons of oil was poured into the northern Persian Gulf by Iraq's forces.

The 2010 Deepwater Horizon oil spill in the Gulf of Mexico is also considered to be among the largest known accidental oil spills in history. Starting April 20, 2010, over 4 million barrels of oil flowed over a period of 87 days into the Gulf of Mexico.