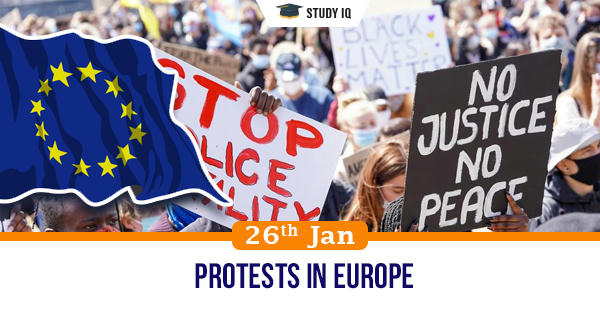 Protests in Europe
Date: 26 January 2021
Tags: Miscellaneous
Issue
Over the weekend, protests against Covid-19 lockdowns rocked the Netherlands, Denmark, and Spain.
Background
A new set of lockdowns were introduced to tackle the spread of more contagious and dangerous variety of UK strain of SARS CoV virus.
Details
Netherlands began its first night-time curfew of the pandemic, which is said to be the country's first since World War II.

Bars and restaurants have remained closed since October, and schools and non-essential shops closed in December.

Under the curfew rules, which are scheduled to continue till at least February 9, no one is allowed to leave home between 9 PM to 4:30 AM, with violators risking a fine of 95 Euros.

Some agitators smashed windows, threw fireworks, set ablaze cars, and robbed supermarkets, and the police resorted to using tear gas and water cannons to disperse the protests.

Protests against Denmark's lockdown restrictions turned violent, and an effigy of Danish Prime Minister Mette Frederiksen was set on fire.

Protest was organised by a group calling itself "Men in Black". "Freedom for Denmark" and "we have had enough" were some of the slogans chanted.

In Spain, protests were organised by a group called "Conscious and Free Humans Collective" and took place even as cases in the Madrid region have tripled in the last 30 days.
Interpretation of protests
The first are libertarian "pro-citizen" movements which have occurred primarily in developed countries of the West, where participants have taken issue with governments restricting their personal freedoms.

The second type is seen taking place in developing economies with large informal sectors, where agitators target the impact of lockdowns on their livelihoods.

Such protests were seen in Mexico, South Africa, and Belgium, where hospitality and retail workers protested against limitations on in-person activities.

The third kinds of protests are those objecting to how the lockdown restrictions are being enforced, accusing authorities of acting arbitrarily or of using excessive force.