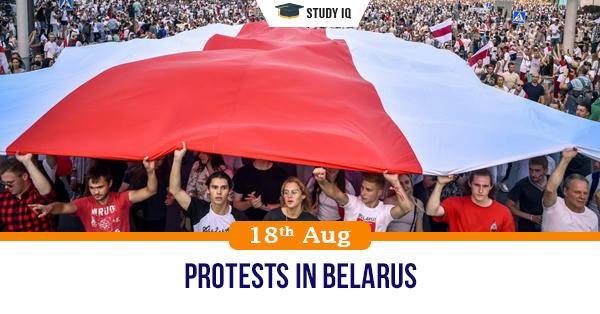 Protests in Belarus
Date: 18 August 2020
Tags: Miscellaneous
Issue
The authoritarian ruler of Belarus, Alexander Lukashenko, has been facing massive protests, when a controversial presidential vote showed him winning by a landslide.
Background
Lukashenko has been running the East European country since 1994, has sought help from Russian President Vladimir Putin for tiding over the most vulnerable period of his dictatorship.
Details
After the disintegration of the Soviet Union in 1991, Belarus became a sovereign nation, and its first presidential elections were held in 1994. Lukashenko, who worked as the director of a collective farm during the Soviet period and served in the Soviet Army, won the polls.

After coming to power, Lukashenko solidified his control over Belarus's legislature, judiciary, and media, and used the KGB spy apparatus inherited from Soviet predecessors to crush dissent. After 1994, Lukashenko claimed victory in five consecutive national polls, despite criticism that the elections were unfair.

He was able to remain in power thanks to generous support from Russia in the form of cheap oil and gas supplies, and by avoiding the tumultuous privatisation route that many post-Soviet countries adopted.

After elections were held on August 9, polling officials said Lukashenko had won 80 percent of the vote, to the dismay of several Belarusian voters who were hoping for an upset.

Main opposition candidate, Sviatlana Tsikhanouskaya challenged the election results, saying she had won by 60 to 70 percent in many precincts, and asked for a recount.

Thousands among the pro-democracy demonstrators are factory workers, who traditionally formed Lukashenko's support base.

Belarus-Russia relations had recently turned sour – in 2019, Lukashenko expelled the Russian ambassador after accusing Moscow of treating Belarus like a vassal state.

Russia was yet to confirm that it would provide Belarus military support, but analysts expect Kremlin to protect its interests in Belarus – which hosts pipelines that carry Russian oil and gas to the West, and which acts as Russia's buffer zone with NATO and the EU.