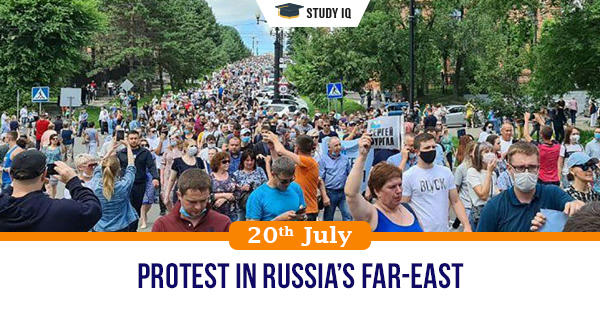 Protest in Russia's far-east
Date: 20 July 2020
Tags: Miscellaneous
Issue
More than 10,000 people joined protests in Khabarovsk city in Russia's far east on Saturday demanding the release of popular regional governor Sergei I. Furgal.
Background
He was arrested on July 9 on suspicion of multiple murders that happened between 2004-2005. Somewhere between 15,000-50,000 people took part in Saturday's mass rally in a rare and one of the largest shows of discontent in recent times.
Details
Sergie is the governor of the Khabarovsk region and earlier in July was held in pre-trial detention on the charges of organising the murder of several businessmen 15 years ago. If found guilty Furgal could be sentenced to life in prison.

Furgal, a member of the far-right Liberal Democratic Party of Russia took office in September 2018, after receiving over 70 percent of the votes in the elections.

He defeated longtime incumbent Vyacheslav Shport, a member of the United Russia Party that backs Russian President Vladimir Putin. Frugal's victory was seen as a sign of rising anti-establishment sentiment in the region.

The arrest of the governor has sparked resentment against the capital Moscow among people of the region as they see it as a world away from Khabarovsk. Therefore, protestors are demanding that Furgal be given a fair trial at his home soil in Khabarovsk.

Significantly, the protests and Furgal's arrest have come after nearly 78 percent of Russians backed the constitutional reforms that could keep Putin in power until 2036.