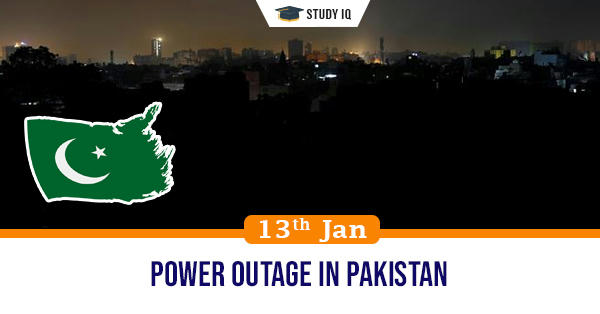 Power outage in Pakistan
Date: 13 January 2021
Tags: Miscellaneous
Issue
Cities and towns across Pakistan were plunged into darkness for several hours following a massive nationwide electricity blackout.
Background
While the power supply was partially restored, an investigation was launched to determine the cause of the outage.
Details
The recent blackout is said to be one of the worst that the country has experienced, but it is most certainly not the first.

Due to Pakistan's fragile power distribution system, outages occur frequently. This has been an issue that has previously sparked widespread street protests.

The country's constant blackouts have sparked several citizen-led protests over the years. But while power cuts are common, nationwide failures are rare.
Reason for outage
The power supply snapped due to a technical fault at a power plant located in southern Pakistan's Sindh province.

The blackout was triggered by a sudden drop in the frequency of the power transmission system from 50 to 0 in less than a second.

It caused a cascading effect and shut down the power system, choking about 10,320 megawatt of electricity.
Impact
Many feared that the blackout would cause major disruptions at hospitals across the country. However, backup generators saved the day.

People claimed to have seen long queues at gas stations in the city as people queued up to buy petrol to power generators in their homes.

Internet connectivity in the country collapsed. Users struggled to get online as connectivity was at 62 percent of ordinary levels.

Some panicked social media users even wondered whether the outage was a prelude to a military takeover or war.
Alternatives
In 2014, there were talks of an Indo-Pakistan electricity deal after the World Bank offered to finance the feasibility study and transmission line to import 1,200 megawatts (MW) of power from India. However the deal was eventually stalled due to geo-political reasons.