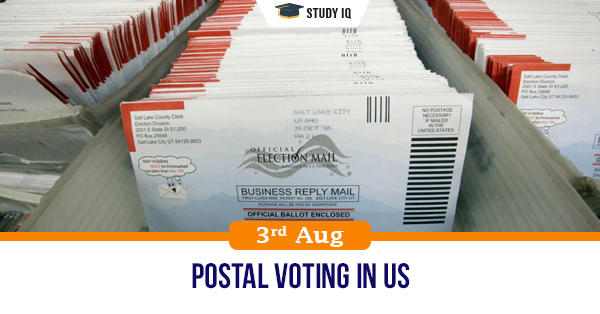 Postal voting in US
Date: 03 August 2020
Tags: Miscellaneous
Issue
As the US presidential election is set to take place in November, many states are making postal voting options more easily accessible due to the coronavirus pandemic.
Background
Ever since the novel coronavirus pandemic has reached the US, many have pushed for the expanded use of postal ballots as opposed to in-person voting to ensure social distancing.
Details
Republicans have argued that postal voting could increase risks of voter fraud, and have accused Democrats of using the pandemic as a pretext to further election reforms.

Unlike in India, where the Constitution provides for a separate rule-making Election Commission that is independent of the executive in government, all US elections–federal, state, and local– are directly organised by the governments of individual states.

The US Constitution and laws grant the states wide latitude in how they administer elections, resulting in varying rules across the country.

While every single state allows postal voting, some do so only in certain circumstances.

In 17 states, mainly in the South and the Northeast, voters are provided absentee ballots if they provide an "excuse" as to why they cannot be present in person on election day.

The states of Colorado, Hawaii, Oregon, Utah, and Washington have "vote-by-mail", where every registered voter is sent a ballot without a request.

Although individual states continue to have different postal voting rules, most of them are making these options more easily accessible due to the pandemic, and are inching closer to vote-by-mail.

Around 24 per cent of voting during the 2016 election, which Trump won, happened through postal ballots. This year, that proportion is expected to surge significantly.
Postal voting in India
Postal voting in India is done only through the Electronically Transmitted Postal Ballot Papers (ETPB) system of Election Commission of India, where ballot papers are distributed to the registered eligible voters and they return the votes by post.

When the counting of votes commences, these postal votes are counted first before the counting of votes from the electronic voting machines of all other voters.

Only certain categories of people are eligible to register as postal voters. People working in the Union armed forces and state police as well as their wives, and employees working for the Government of India who are officially posted abroad can register for the postal vote, these are also called service voters.

Additionally, people in preventive detention, disabled and those above the age of 65 years old can use postal vote.