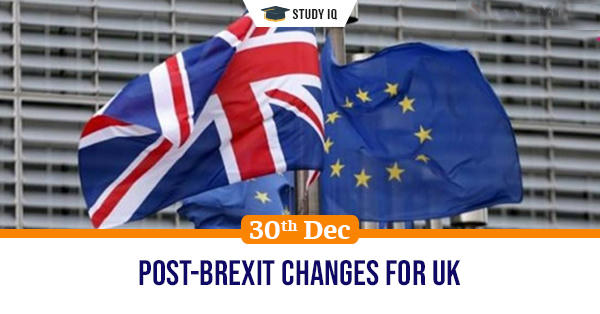 Post-Brexit changes for UK
Date: 30 December 2020
Tags: Miscellaneous
Issue
The 11-month transition period during which the UK and the European Union were supposed to negotiate the nature of their post-Brexit economic relationship will come to an end on December 31.
Background
The two sides struck a trade and co-operation deal which will affect the relationship between the two parties in the years to come.
Details
The deal is not yet law and needs to be ratified by the parliaments of the UK and EU, a process which will likely take a few more weeks. Until the agreement is formally approved and signed, it will be applicable on a provisional basis.

On 31st December, the UK will leave the EU Single Market and Customs Union, all EU policies and international agreements.

This means that the free movement of goods, people, services and capital will stop from January 1 onwards as the EU and UK will become two separate market spaces, with distinct regulations.

When the UK was a member of the EU, it could not hold trade negotiations with countries such as the US and Australia, but now it will be able to set its own trade policy.
Changes to trade rules
The UK and EU have agreed to a 100 per cent tariff liberalisation, which means that there will be no tariffs or quotas on goods that move between the UK and EU.

No tariffs mean there will be no taxes on goods that move between the borders and zero quotas means there will also be no limit on the quantities of goods that can move between the borders.

This will be the first time that the EU has agreed to zero quotas and zero tariffs with a trading partner. Without a free trade agreement such as this, businesses would have to pay taxes on goods, which would have increased their costs.
Other changes
For people travelling between the UK and EU, their entry will still be visa-free but they may be subject to screening and will no longer be able to use the biometric passports.

The UK will leave the EU's Common Fisheries Policy on December 31, but the current rules will remain largely in place during the transition period that will last over five years.

This means European boats will continue to get more access to the UK's fishing waters and the two parties will jointly manage the fish stocks in EU and UK waters.

People travelling to EU countries and vice versa may have to pay roaming charges if their mobile network operators choose to do so. The agreement mentions that operators should charge reasonable roaming rates.

The agreement is based on international law and not on EU law. This means the European Court of Justice can no longer play a role and the UK does not have to follow EU law.