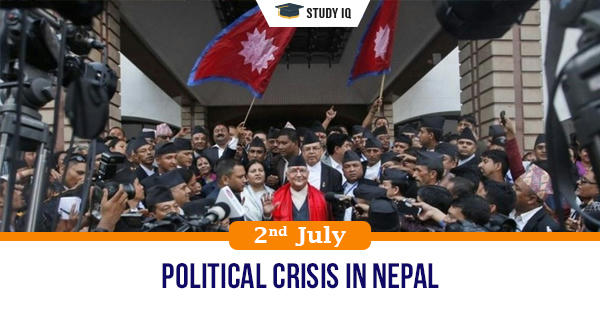 Political crisis in Nepal
Date: 02 July 2020
Tags: Miscellaneous
Issue
Two years after Nepal's two major left parties joined hands to form the Nepal Communist Party, a rift between Prime Minister K P Sharma Oli and former PM Pushpa Kamal Dahal (Prachanda), has raised questions about the future of their unity.
Background
Oli, who steered a recently passed Constitution Amendment Bill endorsing the country's new map that includes territories with India, has been projecting Prachanda and India as conspiring to dislodge him.
Details
Six months ago, Prachanda made a statement that he has agreed to let Oli continue for the five-year term, apparently after Oli assured him that he would function as party chief with all executive authority. However, Oli takes all major decisions and exercises the party chief's duties, reportedly without informing Prachanda at times.

Until a general convention takes place, both are chairpersons of the NCP. At the time of unification, Oli headed the Communist Party of Nepal-Unified Marxist Leninist (UML) and Prachanda the Communist Party of Nepal-Maoists.

Differences between the two leaders were visible right from the beginning. Oli needed a President who could protect him in a crisis, and chose his long-time ally.

Prachanda, for his part, needed a Speaker who could protect his group from disqualification as House members if the unity broke, and got his man elected as the new Speaker.

Last month, Oli brought an ordinance that said 40% support in the party working committee or in the parliamentary party would qualify as a split (rather than both) and not attract disqualification of House membership.

The ordinance was however, withdrawn following allegations that Oli was out to split opposition parties to secure a two-thirds majority; his government is short by nine members.

Factionalism within the party has not been based entirely on previous associations. The nine-member central secretariat, which has the seniormost party leaders, is seen as heavily weighted against Oli.

Although Oli is in a minority in the standing committee, he will not have to resign immediately, but there will be a clear message given to him that he has only few months.

There is a likelihood of coups of the Afghanistan, Pakistan or Bangladesh models, which is being widely interpreted as implying that Oli may use the Nepal Army to take total control.

There is also a chance that Prachanda may be investigated for a corruption case as he is accused of appropriating money meant for Maoist members during the peace process of 2008-2013.

Besides, many in Oli's camp have demanded that Prachanda and his followers be tried for human rights violation during the conflict.