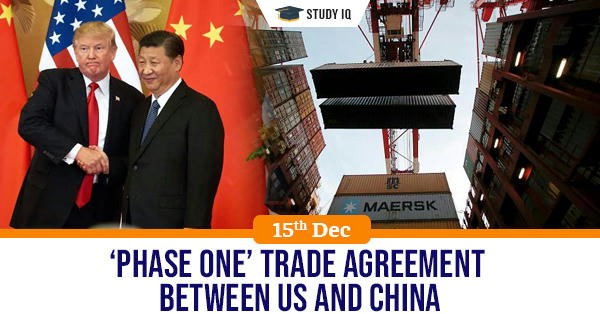 'Phase One' trade agreement between US and China
Date: 15 December 2019
Tags: Miscellaneous
Issue
The United States and China cooled their trade war by announcing a "Phase one" agreement that reduces some U.S. tariffs in exchange for increased Chinese purchases of American farm goods.
Background
Reaching the agreement will serve the fundamental interests of the people of the two countries and the world, and is expected to bring positive influences on areas including economy, trade, investment and the financial market.
Details
The US will be maintaining 25 per cent tariffs on approximately $250 billion of Chinese imports, along with 7.5 per cent tariffs on approximately $120 billion of Chinese imports.

In the Phase One agreement, the chapter on trade expansion mentions commitments from China to import various US goods and services over the next two years, the total amount for which will exceed China's annual levels of imports for those goods and services in 2017 by not less than $200 billion.

The agreement addresses unfair currency practices by committing to refrain from competitive devaluations and exchange rate targeting.

If the agreement is signed, for the first time in any trade agreement, China would have agreed not to pressure foreign companies to transfer their technology to Chinese companies.

The deal would increase Chinese purchases of American agricultural and energy products, and also place limits on Beijing's ability to weaken its currency and provide greater protection to US companies that are operating in China.