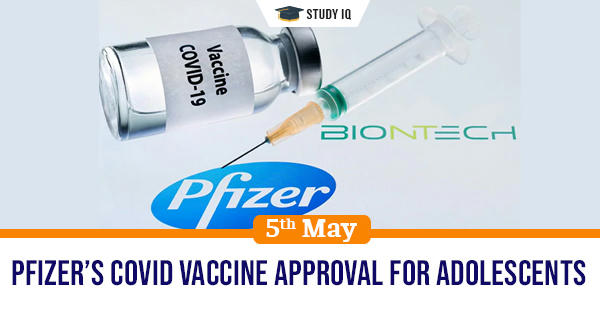 Pfizer's Covid vaccine approval for adolescents
Date: 05 May 2021
Tags: Miscellaneous
Issue
Pfizer-BioNTech vaccine is set to be given approval by regulators in Europe and US for using against adolescents between ages 12-15.
Background
The Pfizer-BioNTech vaccine is currently in use after getting emergency approval against individuals above the age of 16 years.
Details
The manufacturers have said that their vaccine provides an efficiency of 100 percent for individuals within the tested age group of 12-15 years.

In individuals within age of 12-15 years with or without prior SARS CoV-2 has also demonstrated a 100 percent efficacy that included robust anti-body response.
Status of vaccination
Moderna, Pfizer-BioNTech and Johnson & Johnson vaccines have been authorised to be used under emergency approval.

About 31 percent of US population have been completely vaccinated whereas about 44.4 percent of them have been given at least a single dose.

Vaccine hesitancy is expected to reduce the speed of vaccination. Among the citizens, black Americans and Republicans are most likely to be hesitant to take vaccine.

This could be a reason for US not achieving herd immunity in near future. The mutated virus strain has also delayed herd immunity.

EU too has been aggressively conducting vaccination program for its citizens. Issues such as delay in delivery of vaccine are hampering the process of vaccination.

EU had also initiated legal action against vaccine manufacturer AstraZeneca for failing to deliver promised amount of vaccines.