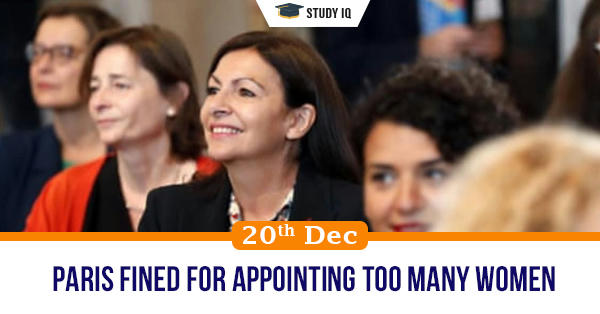 Paris fined for appointing too many women
Date: 20 December 2020
Tags: Miscellaneous
Issue
Paris city authorities have been imposed fine for appointing too many women to top-level positions in 2018 and violating a national rule designed to ensure gender parity in employment.
Background
In 2018, 11 women and five men were appointed to leadership positions in Paris' city hall. This resulted in women getting more position in the council.
Details
Since 69 per cent of the appointments went to women, it was technically in violation of a law introduced in 2013, known as the 'Sauvadet law', which requires a minimum of 40 per cent of appointments for each gender.

The law was drawn up to ensure that women get better access to senior positions in the civil service, however, it also lays down that one sex should not account for over 60 per cent of nominations to management positions.

In 2019, the rule was amended to scrap a provision in the law that called for a fine to be imposed if there is a clear gender imbalance at the workplace.

But since the appointments were made in 2018, before the law was altered, the city council will have to pay the hefty fine for violating the rule.

The incident has, however, sparked debates about the effectiveness of gender quotas to address the issue of gender imbalance in the workplace.

French President Emmanuel Macron had said women's rights would be a top priority for his government, but he has since been criticised for not acting on his proposed plans.
Women representation in Civil Services in India
Of the 88 secretary-rank officers in the central government, only 11 are women. Most of the women officers are posted in departments and ministries such as fisheries, official languages, disability or youth affairs.

Of the 700 officers working in the central government at the joint secretary level and above, only 134 or 19.14 per cent were women as of June 2019.
While there is no reservation for women in the civil services, it could be a solution to ensure that at least more efficient women enter the bureaucracy in the first place.