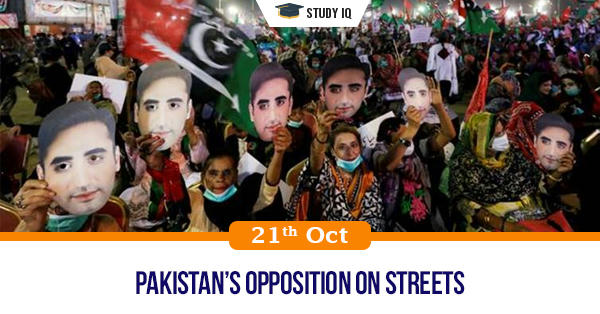 Pakistan's opposition on streets
Date: 21 October 2020
Tags: Miscellaneous
Issue
Two back-to-back joint opposition rallies in Pakistan with tens of thousands taking part despite the pandemic, have set the stage for a new season of political clash.
Background
Four big opposition parties have come together to channelize public discontent at rising prices, power cuts, closure of businesses, and other economic misery. Their alliance is called Pakistan Democratic Movement (PDM).
Details
The PDM has also launched Gen Next leaders of political dynasties: Nawaz Sharif's daughter Maryam Nawaz, and Asif Ali Zardari's son Bilawal Bhutto.

The counterintuitive choice of Maulana Fazlur Rahman, head of the JUI(F) as president of PDM, sidestepped a possible leadership tussle between the Sharifs and the Bhutto-Zardaris.

The Islamist maulana also brings to the PDM a sizeable Pashtun following, a substantial hardline right wing element, and a national character, pre-empting government criticism of a foreign hand in these protests.

Its main demand is that the Imran Khan government must go. It has alleged he was not so much elected as "selected" in the 2018 election by the Pakistan Army.

Imran has hit out at the opposition for playing India and Prime Minister Narendra Modi's game, in trying to weaken Pakistan by trying to topple his government.

The 2013 Sharif government was India's best chance for rapprochement with Pakistan. Sharif's overtures to India made the Pakistan Army jumpy.

The Army's reaction will depend on the momentum the opposition is able to gather. As the final arbiter, it will decide how much leeway to allow the protestors.

The Pakistan Army craves public legitimacy. It would be worried at being identified too closely with a government that has proved inept from the get go. It would rather sacrifice individuals than the institution.