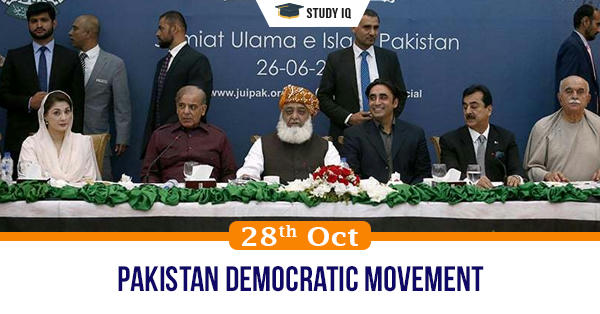 Pakistan Democratic Movement
Date: 28 October 2020
Tags: Miscellaneous
Issue
A huge domestic instability is brewing in Pakistan with coming together of all major political parties to form Pakistan Democratic Movement. The movement has been trying to oust Imran Khan from his position and undermine the army.
Details
The PDM was formed in September by the leader of the Jamiat Ulema-e-Islam, Fazal-ur-Rehman, but constituted by 11 political parties, representing virtually the country's entire political spectrum in Pakistan.

It has brought together the two mainstream but rival political parties, the Pakistan People's Party (PPP) led by Bilawal Bhutto and the Pakistan Muslim League (PML) led by the exiled Nawaz Sharif, but currently headed by his daughter Maryam.

The PDM has also given a national platform to regional parties and provincial leaders from Balochistan and Khyber Pakhtunkhwa, who have been targeted by the Pakistani military for demanding regional autonomy and an end to repression.

The PDM has so far held three massive political rallies, in Pakistani Punjab's Gujranwala on October 18, in Karachi two days later, and in Quetta on October 25.

A certain political momentum has been generated and is gathering strength and this could trigger significant changes in the nature of the Pakistani state.

PDM has politically isolated Prime Minister Imran Khan and, therefore, undermined the credibility of his powerful military backers.

Former Prime Minister, Nawaz Sharif explicitly accused the Army Chief Qamar Javed Bajwa and the ISI chief Faiz Hameed as responsible for rigging the last elections and installing Imran Khan as prime minister.

This move is a huge development in domestic politics as it has the potential of eroding its overpowering influence in the country's politic.