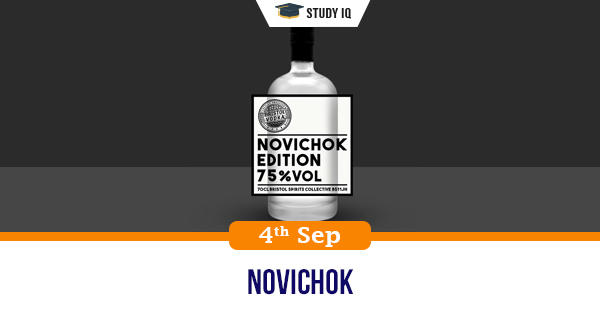 Novichok
Date: 04 September 2020
Tags: Miscellaneous
Issue
The Soviet-era nerve agent Novichok is back in the news for reportedly being used to poison Russian opposition leader and anti-corruption activist Alexei Navalny.
Background
Navalny, who is one of Putin's fiercest critics, fell ill on a flight back to Moscow from Siberia on August 20. He was first taken to a hospital in the Siberian city of Omsk and later Berlin for treatment.
Details
During the Cold War, when the Soviet Union and the United States were at loggerheads, the two were also aggressively developing weapons of mass destruction.

The Central Committee of the Communist Party and the Soviet Council of Ministers issued a secret decree directing the research institute GosNIIOKhT in Moscow to develop binary versions of the fourth generation agents.

The rationale behind the move was to catch up with the United States, which already had three binary chemical munitions under development.

However, unlike the United States where the development of binary chemical agents were being openly debated in the Congress, in the Soviet Union, the nerve agents were being developed under extreme secrecy, as part of a programme codenamed 'FOLIANT'.

One of the main reasons for the secrecy was to develop such agents whose components resembled ordinary industrial chemicals, so that they would not be detected using the standard 1970s and 1980s NATO chemical detection equipment.

The first chemical weapon developed by the Foliant scientists was given the code name 'Novichok', which in Russian means 'newcomer'.

Like other binary nerve gases, Novichok too is absorbed through the lungs or skin and interferes with the nervous system, leading to paralysis.

Nerve gases block the action of acetylcholinesterase, an enzyme that catalyzes the breakdown of acetylcholine and of some other choline esters that function as neurotransmitters.

Consequently, muscles go into a state of uncontrolled contraction, which is a sign of paralysis or seizure like state.

It can turn fatal if the paralysis extends to the cardiac and respiratory muscles. dilation of pupils, sweating and gastrointestinal pain are some of the other symptoms caused by nerve agents.

Instances when nerve agents have been used in warfare include the Iran-Iraq war, when Iraq used them against Kurdish residents in 1988.