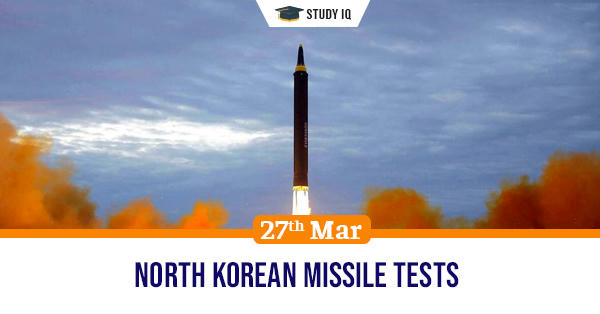 North Korean missile tests
Date: 27 March 2021
Tags: Miscellaneous
Issue
North Korea has been indulging in weapons testing again as a measure to put pressure on new administration in the US.
Background
The tests are smaller in comparison that indicates that North Korea is ready to engage before it pursues bigger tests.
Details
South Korea and Japan reported four short range missile tests carried by North Korea towards their coast.

North Korea usually tests its missiles whenever a new administration takes over in either USA or South Korea. The recent one was aimed at US administration.

However, the country has withheld serious provocation as it feels that Biden administration is still formulating its North Korea policy.

The short range ballistic missiles do not pose any threat to US mainland but cruise missiles pose a threat and have been banned by U.N. Security Council resolutions.
Aim of the tests
North Korea wants US to use its powers to lift sanctions and also allow it to maintain its nuclear capability.

It has indulged in testing long range missiles and nuclear detonation tests to put pressure on international authority.

The US will want to put new sanctions of North Korea but it is difficult as China has veto powers and its tension with US may prompt it to go against the resolution.