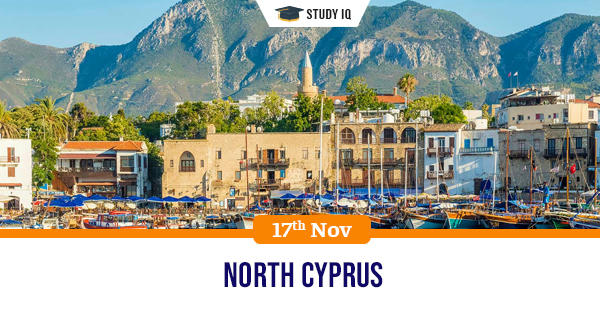 North Cyprus
Date: 17 November 2020
Tags: Miscellaneous
Issue
Turkish President Recep Tayyip Erdogan visited the controversial country of Cyprus and demanded a two state solution.
Background
The last UN-sponsored peace talks in 2017 between Greek Cypriots and Turkish Cypriots, based on the island's reunification had failed.
Details
Cyprus is an island country in the Eastern Mediterranean. The third largest and third most populous island in the Mediterranean, it is located south of Turkey; west of Syria and Lebanon; north of Egypt, Israel, and southeast of Greece.

Cyprus has been divided since Turkey invaded its northern part in 1974 in response to a coup seeking to attach the island to Greece.

The Republic of Cyprus, the only internationally-recognised state and a member of the European Union, exerts its authority over two-thirds of the island south of a UN-monitored buffer zone.

The self-proclaimed Turkish Republic of Northern Cyprus (TRNC), recognised internationally only by Ankara, controls the northern third of the island where some 30,000 Turkish soldiers are stationed.

The international community considers the northern part of the island to be territory of the Republic of Cyprus occupied by Turkish forces.

The occupation is viewed as illegal under international law and amounting to illegal occupation of EU territory since Cyprus became a member of the European Union.