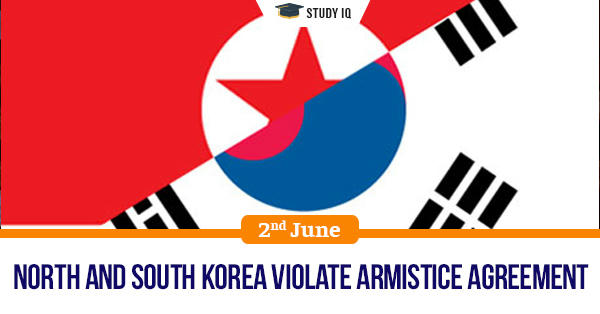 North and South Korea violate armistice agreement
Date: 02 June 2020
Tags: Miscellaneous
Issue
The UN Command, led by the United States, found that North and South Korea were both guilty of violating armistice agreements following a recent incident involving gunfire along the Demilitarised Zone between the two countries.
Background
This shooting, the first of its kind in approximately two and a half years, was in violation of the armistice agreement which brought a halt to the Korean War in 1953.
Details
South Korea had also warned North Korea through broadcast messages that the firings were a violation of the 2018 inter-Korean military agreement that had come about following a meeting between North Korean leader Kim Jong Un and South Korean President Moon Jae-in.

One of the terms of this agreement, called the Pyongyang Joint Declaration of September 2018, said there would be reduced military tensions between the two countries.

The shootings from North Korea did not appear to be intentional. Prior to this, shootings occurred across the DMZ in December 2017 when a North Korean soldier defected to the other side.

The investigation said North Korea had violated the armistice of 1953 by firing four rounds, as had South Korea by firing five rounds in return.

The report also said investigations had been unable to determine whether the shootings that originated from North Korea had been intentional.

One of the roles of the UN Command is to ensure the terms of the armistice are being agreed upon by both North Korea and South Korea.
Korean Armistice Agreement
The 1953 Korean Armistice Agreement was a ceasefire though there was no official declaration of the end of the war, and the conflict has continued, without fighting between the parties.

In December 1991, North and South Korea signed a pact where they agreed to refrain from aggressions, in a step that would lead to better relations and a potential resolution of the situation.

Since the armistice was enforced, there have been several violations of it from both North and South Korea, leading to persistent tensions between the two countries.