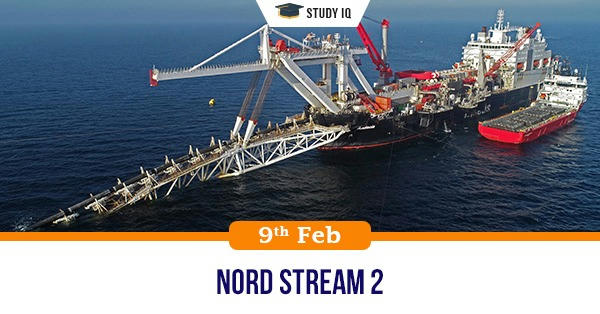 Nord stream 2
Date: 09 February 2021
Tags: Miscellaneous
Issue
The Russian consortium building the Nord Stream 2 pipeline has said that it has resumed work on the controversial project.
Background
The development could potentially develop tensions between the United States and Germany.
Details
In 2015, Gazprom and 5 other European energy firms decided to build Nord Stream 2, valued at around $11 billion.

The 1,200 km pipeline will run from Ust-Luga in Russia to Greifswald in Germany, and will carry 55 billion cubic metres of gas per year.

The under-construction pipeline will run along the already-completed Nord Stream 1 system, and the two together will supply an aggregate of 110 billion cubic metres of gas to Germany per year.

The pipeline falls in German and Danish territory, and all but 150 km of pipes for the project have already been laid.
Controversy
Nord Stream 2 has drawn criticism from the US, where both the Democratic and Republican parties believe that the project would increase Europe's dependence on Russia for natural gas.

The project has also irked Ukraine, whose ties with Russia have seriously deteriorated in the aftermath of the Crimean conflict in 2014.

There is an existing land pipeline between Russia and Europe that runs through Ukraine, which feels that once Nord Storm 2 is completed, Russia could bypass the Ukrainian pipeline, and deprive the country of lucrative transit fees.

Germany has solidly stood behind the Nord Stream 2, despite opposition from allies, with government insisting that it is a commercial project.

In December 2019, work on the project was suspended due the threat of US sanctions. The US carried out its threat for the first time, imposing sanctions on a Russian ship tasked with laying pipes for the project.