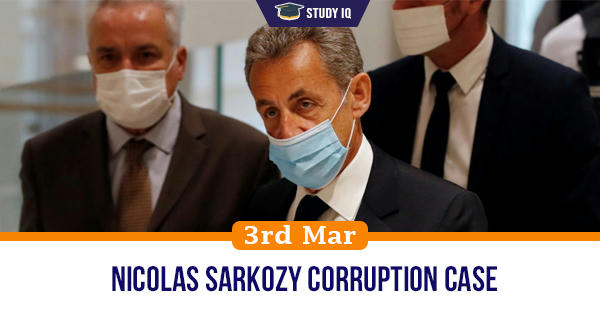 Nicolas Sarkozy corruption case
Date: 03 March 2021
Tags: Miscellaneous
Issue
Former French President Nicolas Sarkozy was sentenced to three years in prison in connection with corruption and influence peddling.
Background
Sarkozy has become the second president in modern-day France – after Jacques Chirac, to be convicted for corruption.
Details
Sarkozy's conviction marks the first time that a former president has been convicted on charges that relate to acts committed during his time in the country's highest office.

Sarkozy has been accused of bribing a judge with the promise of an important position in exchange for receiving confidential information about another trial that the former French president is facing.

Sarkozy had offered a secure job to judge in return for confidential information about the trial that alleged that Sarkozy had accepted illegal payments from L'Oreal heiress for his 2007 election campaign.
Other cases
Sarkozy was indicted by the National Financial Prosecutor's Office (PNF) for passive corruption, concealment of embezzlement of Libyan public funds and illegal campaign financing.

This was related to a case in which Sarkozy was alleged to have received funding from Libya with the help of former Libyan leader Muammar Qaddafi for his 2007 campaign.

In France this case is referred to as the "wiretapping case" or the "eavesdropping" case because of the route that investigators took.

Another case against Sarkozy is likely to go on trial from March 17 and is referred to as the Bygmalion affair. The allegations are that during his re-election bid in 2012, Sarkozy's party overspent and tried to hide the costs with the help of a PR company.
Implications
The sentence does not mean that he will physically go to prison since two of the three years in the sentence have been suspended.

Further, Sarkozy may be allowed to serve his remaining sentence form his home under conditions similar to a house arrest.