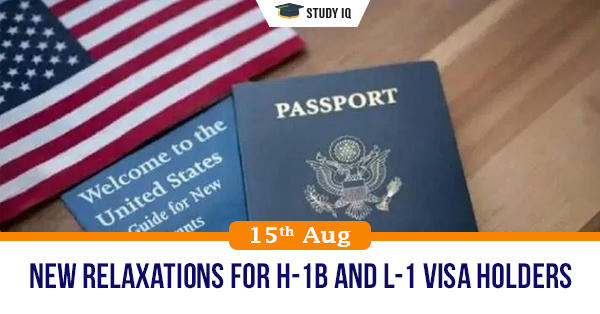 New relaxations for H-1B and L-1 visa holders
Date: 15 August 2020
Tags: Miscellaneous
Issue
The US State Department has allowed some exemptions to President Donald Trump's announcement of banning the entry of foreign and non-immigrant visa workers.
Background
The new relaxations allow H-1B and L-1 visa holders to go back to US for continued employment with the same employer.
Details
The State Department has said that it had decided to allow certain categories of workers and non-immigrant visa holders in "national interest".

For such categories of workers, who are not covered by the presidential proclamation of June 22, neither they nor their spouse or children will be barred from obtaining a visa to travel to the US.

H-1B visa holders who are public or private healthcare professionals or are engaged in medical research "in an area with a substantial public health benefit" will be allowed to travel.

Further, H-1B visa holders whose services have been requested by any US government agency such as those working the information technology and support services, will be allowed to go back to the US.

Non-government IT workers will be allowed to travel to the US if they are travelling back to resume employment with the same organization they were before the June 22 proclamation.

Technical specialists, senior managers, and other workers whose travel is necessary to facilitate the immediate and continued economic recovery of the United States will also be allowed to travel.

This means that companies which require skilled Indian IT workers will be able to hire H-1B workers from the talent pool of visa holders either already residing in the US or those that have come back to India and are ready to go back.

Companies such as Wipro, TCS, and Infosys, which have big contracts from US federal agencies, may also benefit as the new advisory allows workers who travel request is supported by a request from a US government agency or entity to meet critical U.S. foreign policy objectives or to satisfy treaty or contractual obligations in areas of IT and tech support.