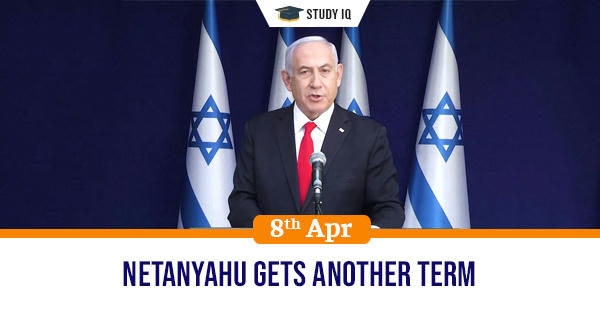 Netanyahu gets another term
Date: 08 April 2021
Tags: Miscellaneous
Issue
Israeli President has invited Prime Minister Benjamin Netanyahu to form the next government in the country.
Background
This is a fourth such election since 2019 where there has been no clear majority for a particular alliance.
Details
Israel works on proportional representation where parties get seats based on number of votes polled. No single party gets clear majority.

Due to rising differences between political parties alliances have broken and it has become more difficult to form a government.

Netanyahu has about six weeks to form the government but it looks increasingly difficult and a potential fifth election is on cards.
Rising instability
Neither Netanyahu nor his opponents have been able to form government since 2019. The alliances led by Netanyahu collapsed and the election was re-held.

This political deadlock has forced Israelis to vote continuously. They hope to have a stable government that can function for full term.

Citizens are angry on Netanyahu for his corruption scandals, rising pandemic woes and other unfulfilled promises.

Re-election is a way Netanyahu has been in power since last 12 years and he aspires to get a stronger majority to make laws that will prevent prosecution against him.
Charges against Netanyahu
Netanyahu is accused of giving political favours in exchange for gifts. He has also allegedly paid newspapers for getting a positive coverage and removal of critical articles.

There are no constitutional laws to force Prime Minister to resign unless charges are proved. He has been trying to prevent opposition from forming government.