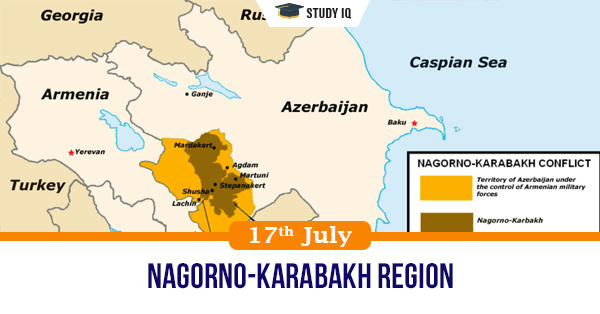 Nagorno-Karabakh region
Date: 17 July 2020
Tags: Miscellaneous
Issue
This past weekend, tensions escalated at the border between Armenia and Azerbaijan has resulted in the death of at least four Azerbaijani soldiers.
Background
Territorial disputes and ethnic conflict between Armenia and Azerbaijan in Central Asia have impacted the Nagorno-Karabakh region in the South Caucasus.
Details
Azerbaijan's President had said peace talks with Armenia had stalled over the ongoing conflict between the two nations in the Nagorno-Karabakh region.

Conflict in the Nagorno-Karabakh region began following the breakdown of the Soviet Union in the late 1980s and lasted till approximately 1994, with both Armenia and Azerbaijan claiming this strategic territory.

At that time, the enclave of Nagorno-Karabakh had held a referendum boycotted by Azerbaijan where the people chose independence over joining either of the two countries.

The conflict between ethnic Armenians and ethnic Azerbaijanis in Nagorno-Karabakh reached a particular low with Armenia and Azerbaijan accusing each other of having instigated ethnic cleansing.

The situation worsened when the Nagorno-Karabakh Autonomous Oblast, an administrative unit, decided to vote to join Armenia given its large Armenian population.

Russia mediated a ceasefire between Armenia and Azerbaijan, but the conflict has continued for three decades, with instances of ceasefire violations and violence instigated from both sides.

In a break from the violence that the disputed region has witnessed for over 30 years, this area has been relatively calm for the past two years.

Observers believe an all-out war between Armenia and Azerbaijan is unlikely due to a number of factors including chances of civilian casualty.

Any military escalation would draw regional powers like Turkey and Russia more deeply into the conflict, something that wouldn't be preferred by either Ankara or Moscow.

There is also the question of the network of oil and gas pipelines and strategic roads to which access might be blocked or interrupted for the region at large should any large-scale fighting ensue.