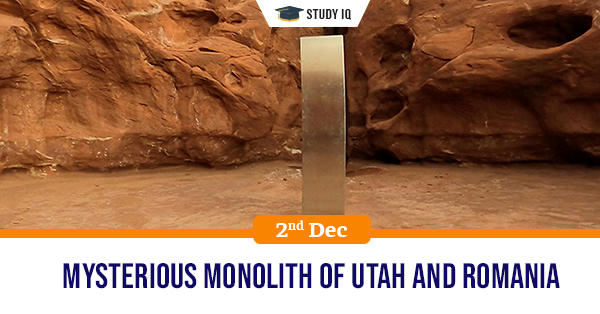 Mysterious monolith of Utah and Romania
Date: 02 December 2020
Tags: Miscellaneous
Issue
During a routine expedition in Utah's Red Rock County, US agencies have discovered a mysterious three-sided monolith at the base of a canyon.
Background
Agencies have speculated that it may have been installed by a new wave artist or a fan of the movie "2001: A Space Odyssey".
Details
Now the agency has reported that the monolith has vanished without a trace except for some rocks that were kept to mark the location where it was installed.

Similar monolith has been discovered in a remote hill of Romania. The monolith is covered in scrawls unlike the one in Utah.
Theories of origin
Extra terrestrial
Proponents of this theory believe that the monolith is the handiwork of extra terrestrial aliens that have left these artefacts.
Art
It is speculated that Utah monolith is handiwork of minimalist sculptor and artist John McCraken, who has love for science fiction. The monolith of Romania may have been inspired by McCraken.
Hoax or prank
People have pointed out that the monolith lacks the fineness expected from an artist and was more likely a prank by some sci-fi movie fans. Such pranks were reason for the England crop circles that appeared in 70s.